Georgia School District Bans Coach From Praying With Team After Atheists Complain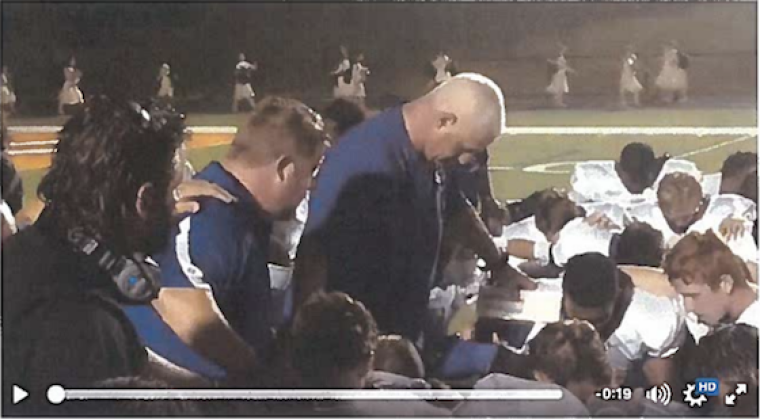 A school district in Georgia has told a high school football coach and school district employees that they cannot participate in student-led prayer after the nation's largest secularist legal organization filed a complaint about coach-led prayer.
The Coweta County School System has issued a formal guidance on "prayer in school" following an Oct. 25 complaint from the Wisconsin-based Freedom From Religion Foundation in regards to East Coweta High School football coach John Small engaging his team in prayer.
"Representatives of the school cannot participate in any student initiated/student led prayer or worship while acting in their official capacity," a legal memorandum written by Coweta school board attorney Nathan Lee that was passed on to employees at all district schools on Monday, reads.
The memo, which was obtained by the The Christian Post, explains that even if the prayer is student-led, teachers, coaches and all other staff members cannot "join hands, bow their heads, take a knee or commit another act that otherwise manifests approval with the students' religious exercise, at least where it would be perceived by a reasonable observer to display government endorsement of religion."
"The courts have left open little leeway in this area, where the historical context of the employee's actions would not cause the perception of government endorsement, but has not definitely articulated what that would look like," the memo states. "Accordingly, it is best to avoid the perception of government endorsement by all employees refraining from any action that may be perceived as endorsement, silent or otherwise."
"Nevertheless, nothing compels an employee to make their non-participation vehemently obvious or to leave or flee the religious observance or prayer," the memorandum added. "Additionally, an employee is allowed to have supervisory or custodial role in student initiated and run organizations, so long that it is clear that role is custodial."
The memo comes after FFRF legal fellow Christopher Line sent a letter to Superintendent Steve Barker that included a picture of Small engaging his team in prayer. Although it is not made clear as to when the picture was taken of Small praying with his team, Line argues that Small's praying with his student-athletes is an entanglement of religion and a violation of the Establishment Clause of the First Amendment to the United States Constitution.
"Coach Small's conduct is unconstitutional because he endorses and promotes his religion when acting in his official capacity as a school district employee," Line's letter explains. "Certainly, he represents the school and the team when he acts in his official role as Head Coach of the [East] Coweta High School football team. Therefore, he cannot lead his team in prayer and he cannot organize or advocate for students to lead team prayer either."
Line's letter called for an immediate investigation into Small's actions and that the school system put an end to all school-sponsored prayer in all the district's athletic programs.
Dean Jackson, a spokesperson for the school system, told CP on Monday that after receiving Line's letter, Barker asked the school board attorney to provide legal guidance on the matter.
After receiving the guidance from Lee, Barker met with the principals of the three district high schools to inform them of the guideline on prayer on Friday. Lee's memorandum was then sent to the principals of all the other schools in the system on Monday.
FFRF claimed victory when it announced last Friday that Barker had met with the principles to tell them that paid and voluntary school staff are not allowed to participate or lead teams in prayers or other religious activity.
"We appreciate the district's swift action to address the violation and its commitment to protecting the rights of conscience for all of its students," FFRF Co-President Annie Laurie Gaylor said in a statement.
The Coweta systemwide memo comes as the U.S. 9th Circuit Court of Appeals ruled in August against football coach Joe Kennedy, who sued on the grounds that his religious freedom rights were violated when he was punished by a Washington state school district for kneeling in prayer at midfield after games.
The Coweta County School System guidance on prayer in school also included sections on how schools should give equal access to religious and nonreligious on-campus student groups and how schools should protect the rights of students to engage in voluntary prayer on school property before, during and after the school day.