Michigan Football Coaches Under Fire for Inviting Opponents to Pray After Game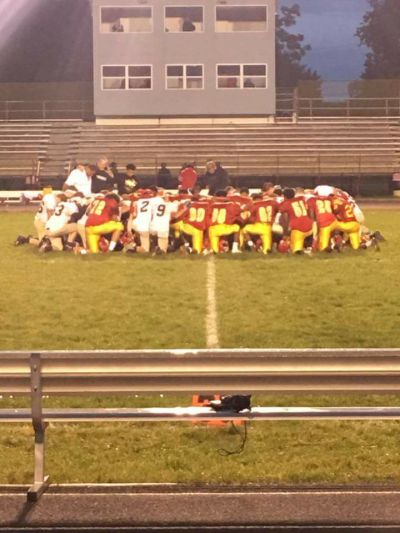 The nation's largest secular legal organization is pressuring a Michigan school district to bar its high school football coaches from participating in team prayers after a junior varsity coach allegedly invited an opposing team to join in prayer after a game.
After the United States Ninth Circuit Court of Appeals ruled in August that a Washington state high school football coach does not have the right to pray at midfield after football games, the Freedom From Religious Foundation is now trying to pressure Bridgeport High School to force its football coaches to stop praying with their players.
FFRF, a Wisconsin-based group that advocates for a strict separation of church and state and has over 700 members in Michigan, sent a letter to Bridgeport Spaulding School District Superintendent Carol Shelby late last month to complain about coaches on the Bridgeport High School junior varsity football team who invited members of the opposing team to join their prayer gathering at a game on Sept. 7.
The letter included a screengrab of a photo shared by the Bridgeport High School Football Facebook page showing the teams huddling in prayer after the game. The picture was initially shared on Facebook by an observer of the game.
"Tonight I saw something pretty miraculous," the observer noted in her Facebook post. "Our JV team beat Bridgeport tonight, it was a great game! Yay for our 1st Victory! The best part of the whole night though was after the game was over. The Bridgeport coach brought his team over to ours, both teams got in a huddle and took a knee. At that point the coach talked to the kids about how it's not just about winning but the sportsmanship .. then EVERY player bowed their heads (including coaches)and they PRAYED! They prayed on the football field .. both teams together."
Although the observer was excited to see the teams pray together, those at FFRF were not. 
"This prayer circle, which shows coaches participating in the prayer, was photographed and shared on social media," the letter to the school district, written by FFRF legal director Rebecca Market, states. "It is illegal for public school athletic coaches to lead their teams in prayer. The Supreme Court has continually struck down school-sponsored prayer in public schools."
Market argued that the coaches' were representing the school district while participating in the prayer and gave off the impression that the public school prefers religion over nonreligion.
The letter cited a number of different Supreme Court cases, including Engel v. Vitale, the 1962 ruling that determined that it's illegal for school officials to create an official school prayer and encourage its recitation.
Market also cited federal appeals court rulings such as Borden v. School District of the Township of East Brunswick, New Jersey, where the U.S. Third Circuit Court of Appeals ruled against a high school football coach looking to protect his ability to pray with his team.
"In that case, the court stated that the coach's involvement in the prayer by 'taking a knee' and 'bowing his head' during the prayer, even when student led, 'would lead a reasonable observer to conclude he was endorsing religion,'" Market stated. "The court continued, 'if while acting in their official capacities, [school district] employees join hands in a prayer circle or otherwise manifest approval and solidarity with the student religious exercises, they cross the line between respect for religion and the endorsement of religion."
"The court in Borden also rejected the coach's argument that the school district's policy of prohibiting its employees from engaging in prayer with students violated the employee's right to free speech," Market's letter continued. "In fact, the court found that the school district had a right to adopt guidelines restricting this activity because of its concern about potential Establishment Clause violations."
Market's letter demanded that the school district investigate the accusations and take immediate action to prevent the coaches from praying again with their team.
"We see here conduct extremely unbecoming of coaches," FFRF Co-President Annie Laurie Gaylor said in a statement. "Public school employees should be aware that a good portion of their student population is most often comprised of individuals with different beliefs or no belief. Students should not be expected to pray to play."
Religious Liberty nonprofits have long argued that coaches should have the individual First Amendment right to pray during, before or after games and practices regardless of their status as government employees. However, religious liberty advocates suffered a setback in August when the Ninth Circuit Court of Appeals ruled against coach Joe Kennedy who was suspended by his Washington school district for praying with his players after football games.
"According to the Ninth Circuit, it is unconstitutional for a coach to make a sign of the cross or bow his head in prayer when a player gets hurt," Mike Berry, deputy general counsel at of the religious freedom law firm First Liberty Institute, said in a statement. "We are deeply disappointed by the decision and will consider all options available to coach Kennedy as we continue to review the opinion."
Earlier this year, FFRF claimed victory when a Kansas school district assured that it would prevent its coaches from engaging in prayer with students. FFRF filed a complaint after coaches and players of the Cheylin High School boys basketball team prayed with members of the Weskan high school team after their game on Jan. 31.
Cheylin United School District 103 assured that such a post-game prayer would not happen again.
The FFRF, however, suffered defeat last week when the Ninth Circuit Court of Appeals ruled that high school cheerleaders have the right to post Bible verses on their banners shown before games, saying that the students' speech can't be "characterized as government speech."