Atheist Group Sues West Virginia City for Reciting Lord's Prayer at Meetings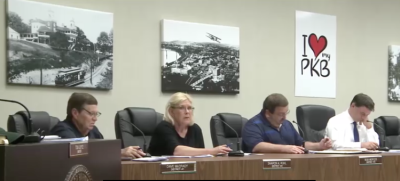 A Wisconsin-based atheist organization has filed a lawsuit against a West Virginia city over the local government's practice of opening official meetings with a reciting of the Lord's Prayer.
The Freedom From Religion Foundation filed the suit on Tuesday against the City of Parkersburg in the U.S. District Court for the Southern District of West Virginia. In their complaint, the FFRF stated that Parkersburg cannot open its City Council meetings with the Lord's Prayer nor can they encourage attendees to participate.
"The City Council's recitation of the Lord's Prayer has the primary effect of both advancing religion and expressing Defendant's preference for Christianity above all other religions and nonreligion," read the suit.
"The City Council members have coerced participation in religion by leading meeting attendees in the Lord's Prayer and intimidating nonparticipants."
The suit was filed on behalf of two local residents, one who identifies as atheist and another as "agnostic atheist," who attended multiple meetings and felt unwelcomed due to the prayer and the apparent expectation that they participate.
Mayor Tom Joyce defended the practice, telling the Parkersburg News and Sentine that the prayer "takes place before the meeting and no one is invited to rise and join."
This is not the first time that the FFRF has sent a complaint toward the West Virginia city. In April 2014, Parkersburg South High School painted over a Bible verse in their gymnasium following a letter of complaint from the atheist group.
The verse was Philippians 4:13, which is popular among Christian athletes, and was also the motto of the high school wrestling team as well as on their official T-shirts.
FFRF's lawsuit against Parkersburg City Council comes days after a three-judge panel of the Ninth Circuit Court of Appeals ruled in favor of an FFRF suit against a California school board's policy of holding school-sponsored Christian prayers at meetings.
In a Per Curiam opinion released last month, the Ninth Circuit panel upheld an injunction against Chino Valley Unified School District over the invocations at school board meetings.
"The invocations to start the open portions of Board meetings are not within the legislative prayer tradition that allows certain types of prayer to open legislative sessions," read the panel decision in part.
"This is not the sort of solemnizing and unifying prayer, directed at lawmakers themselves and conducted before an audience of mature adults free from coercive pressures to participate, that the legislative-prayer tradition contemplates."