Pastor Zachery Tims Died From Cocaine-Heroin Mixture, Says NYC Medical Examiner's Office
New Destiny Christian Center Founding Pastor's Cause of Death Revealed After Long Fight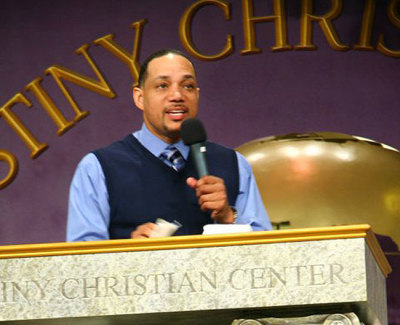 Zachery Tims, the Florida megachurch pastor found dead in a New York City hotel room over two years ago, died accidentally from "acute intoxication by the combined effects of cocaine and heroin," according to the NYC chief medical examiner's office.
The autopsy report released Thursday revealing the cause and manner of Tims' death comes after a lengthy fight by his mother, Madeline Tims, to keep those details secret, and amid speculation that drugs had been involved in Tims' death all along. Tims' mother had said in court documents that revealing how her son died would prove embarrassing to his family.
The founding pastor of New Destiny Christian Center (NDCC) in Apopka, which has since been put under the leadership of Pastor Paula White, was found dead Aug. 14, 2011, in the W. Hotel in Times Square. Tims had reportedly been in the area for ministry-related activities.
Tims former wife, Riva Tims, who leads her own church in the Orlando-area, had indicated in recent times that her husband's drug problems had resurfaced, although he claimed in a 2006 bio titled It's Never Too Late that God had freed him from substance abuse.
Riva Tims suggested in an interview published in February by Ebony magazine that her former husband's drug habit often showed during their 15-year marriage.
"I thought that was stuff in the past. I didn't realize it was still current. I found out for sure about the affairs and substance abuse at the same time. When he started telling me stuff, I began to dig and other things came out," Tims told Ebony.
"I had no idea it was so much. I'll put it this way: It's one thing to have a struggle; it's another thing to have a lifestyle. When it's a struggle, there's grace. But when it's a lifestyle, there's no grace."
The couple, who share four children, divorced after 15 years of marriage, but remained friends according to Ms. Tims.
Zachery and Riva Tims founded New Destiny Christian Center in 1996 and grew it to a 7,000-member congregation. There was disagreement among members over Paula White, reportedly Tims' "spiritual mother," being installed as NDCC's senior pastor in Jan. 2012. White was formerly pastor of Without Walls International Church, in Tampa, Fla., which her ex-husband Randy White now leads.