Pastors Urged Trump to Show 'Heart' for 'Dreamers' Before He Ended DACA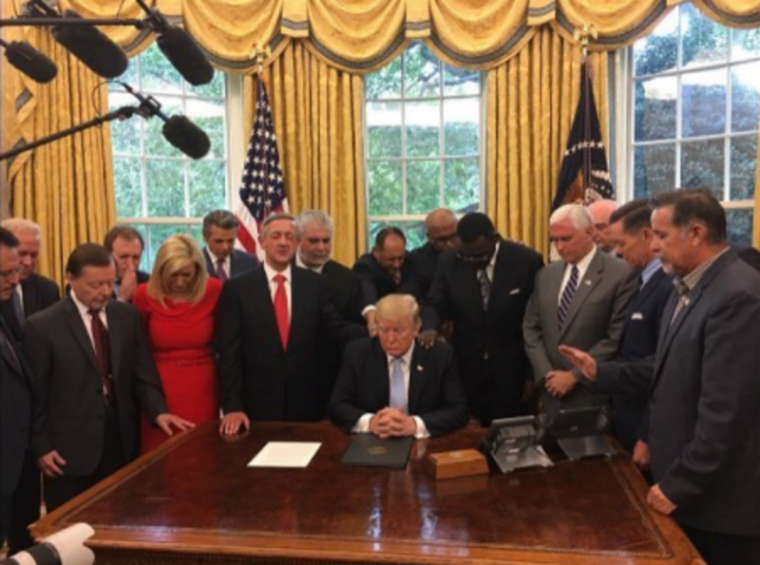 A group of evangelical pastors who were early supporters of President Donald Trump's bid for the White House in 2016 and who later became official advisers, urged him to show "heart" for the young beneficiaries of the Deferred Action for Childhood Arrivals program, known as DACA, before his administration announced an end to the program Tuesday.
"This policy was implemented unilaterally to great controversy and legal concern after Congress rejected legislative proposals to extend similar benefits on numerous occasions to this same group of illegal aliens," U.S. Attorney General Jeff Sessions said at a press conference declaring the Obama-era program implemented in 2012 would be rescinded.
Jentezen Franklin, senior pastor of Free Chapel in Gainesville, Georgia, pleaded with Trump for several minutes during a meeting at the Oval Office last week to protect the DACA recipients who were brought to the U.S. illegally by their parents, according to The Washington Post.
"I know these kids," Franklin said he told Trump, who then asked, "They are good kids?"
Franklin replied: "Yes, sir. They are."
Pointing to Trump's love for his own children, Franklin further urged: "I want to see that kind of heart toward these children."
A White House official told The Washington Post that while Trump appreciated the pastors' comments, ending DACA was one of his campaign promises to voters.
"He takes the conversations seriously and listens to the individuals," the official said.
Franklin further stated on Monday that he was "concerned to see DACA expire" but was thankful that the president was granting a "generous six-month extension to dreamer kids" that would put the burden of a solution on Congress. He believes the "dreamers" should have a path to citizenship but he said he wasn't sure how Trump would respond to such a bill.
"He's a politician," Franklin said. "What he does is what he does."
Franklin was joined by a small group of black and Hispanic pastors, including Bishop Harry Jackson, lead Pastor of Hope Christian Church in College Park, Maryland, who also talked about racial tensions in the aftermath of the deadly riots in Charlottesville, Virginia.
Trump's handling of the crisis came under severe criticism with some even branding him a racist.
Prominent New York City Pastor A.R. Bernard announced his departure from the group of evangelical advisers to Trump in the wake of clashes between white supremacist groups and counter-protesters, including antifa, in Charlottesville, which left one dead and 19 others injured when James Alex Fields Jr. rammed his car into a crowd.
He cited a "deepening conflict in values" between himself and the administration after Trump said "there is blame on both sides" for the violence and there were decent people on all sides of the protests.
Other advisers like Bishop Jackson, however, have stayed with the group even though a few of his congregants have questioned his loyalty.
"I work with fallen people," Jackson told The Washington Post.
During the short time the pastors had with the president, according to the Post, they tried to talk with him about what life is like for blacks and Hispanics.
"Get in the other man's shoes a little bit," Franklin said Trump was advised.