Trump Ends DACA, Will Gradually 'Wind Down' Law; Calls on Congress to Act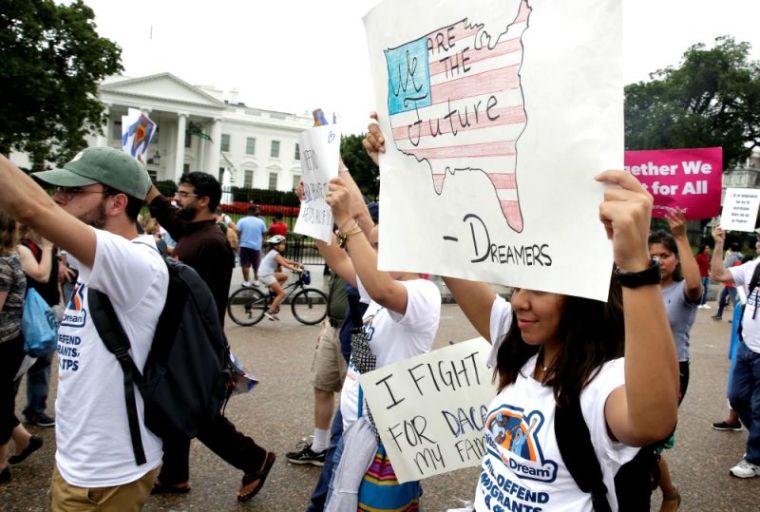 President Donald Trump will end the Obama-era Deferred Action for Childhood Arrivals program, which temporarily protected immigrants who were brought to the United States illegally when they were children, with a gradual winding down of the law so Congress can have time to pass legislation. 
At a White House press briefing on Tuesday morning, U.S. Attorney General Jeff Sessions announced that DACA would be "rescinded."
"This policy was implemented unilaterally to great controversy and legal concern after Congress rejected legislative proposals to extend similar benefits on numerous occasions to this same group of illegal aliens," Sessions said.
"In other words, the executive branch, through DACA, deliberately sought to achieve what the legislative branch specifically refused to authorize on multiple occasions. Such an open-ended circumvention of immigration laws was an unconstitutional exercise of authority by the Executive Branch. "
Sessions added that there will be "a wind down process" in the law so that the Department of Homeland Security can "conduct an orderly change and fulfill the desire of this administration to create a time period for Congress to act — should it so choose."
"Simply put, if we are to further our goal of strengthening the constitutional order and the rule of law in America, the Department of Justice cannot defend this type of overreach," Sessions continued. 
"Ending the previous Administration's disrespect for the legislative process is an important first step. All immigration policies should serve the interests of the people of the United States — lawful immigrant and native born alike."
In 2012, President Barack Obama began a policy known as Deferred Action for Childhood Arrivals, or DACA, which was meant to stop the deportation of the children of immigrants who entered the country illegally.
An extension of the DACA policy was blocked by an appeals court and in June 2016, the block remained in place thanks to a divided 4–4 U.S. Supreme Court ruling.
Given that Trump was elected president running on a platform that included stricter rules on immigration, many wondered about the fate of DACA.
The Evangelical Immigration Table, a coalition of evangelical organizations and leaders who advocate for immigration reform that is "consistent with biblical values," sent letters out to Trump and Congressional leadership urging to keep DACA, at least until Congress could enact more permanent legislation.
"We carry particular concern for the future of these dreamers because they have much to offer America. They were brought here without their consent, and in most cases the U.S. is the only home they have known," read the evangelical leaders' letter to Trump.
"We know that these young people who stepped forward in good faith are not threats to America. By enrolling in DACA, they already have submitted to screening for criminal activity and potential threats to national security."
By the weekend, there were strong indications that Trump was going to end DACA, possibly placing a six-month delay on its termination while Congress crafted legislation.
"Senior White House aides huddled Sunday afternoon to discuss the rollout of a decision likely to ignite a political firestorm — and fulfill one of the president's core campaign promises," reported Politico on Sunday.
"... conversations with Attorney General Jeff Sessions, who argued that Congress — rather than the executive branch — is responsible for writing immigration law, helped persuade the president to terminate the program and kick the issue to Congress, the two sources said."
On Tuesday morning before officially announcing DACA's termination, Trump tweeted out the message "Congress, get ready to do your job — DACA!"