Pat Robertson Warns of 'Satanic' Attacks on Donald Trump Following Witchcraft, Occult Reports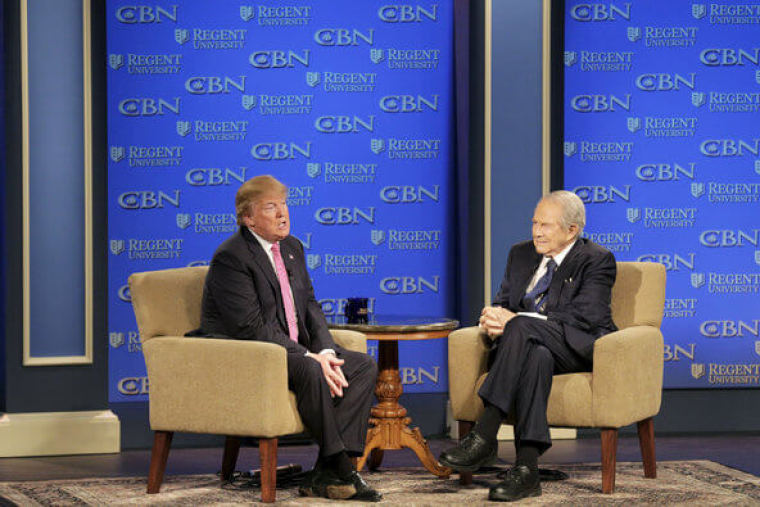 Christian Broadcasting Network founder and "The 700 Club" host Pat Robertson warned that President Donald Trump is being targeted with "satanic" attacks. His comment comes not long after self-proclaimed witches gathered to cast spells on the American president.
Robertson was responding to a viewer question on "The 700 Club" earlier this week, asking why so many people are opposed to Trump, to which the Baptist minister replied:
"There's a desire on the part of some, and I think it's satanic, it really is spiritual, to destroy America."
Robertson added, "If America goes down, the lamp of freedom goes out. There's no other champion of freedom anywhere in the world and we would be engulfed in chaos."
Robertson believes that America was heading toward such "chaos" under former President Barack Obama. 
"Another four or eight years of Obama-style government and we would have been consumed with a socialist mentality and the freedom that we've enjoyed would be blotted out, so God gave us a reprieve and this thing is spiritual," Robertson said.
His comments follow reports of witches organizing rituals focused on keeping Trump from "harming people and nature."
W.I.T.C.H. Boston, one of the participating groups, explained that it would continue casting the spell every waning crescent moon until Trump leaves office.
Bryan Fischer, host of the "Focal Point" show on American Family Radio, warned against scoffing at such reports, arguing that Trump is indeed facing a "spiritual war."
"Jesus, who knew more about the spirit world than all the intellectuals in the world put together, was under no illusions about the existence of the underworld and the mission of dark spirits who attack human beings," Fischer reminded readers.
"A good part of His earthly ministry was spent delivering people from the power of demons."
Kimberly Daniels, freshman Florida Democratic House member who leads the non-denominational Spoken Word Ministries, recently invoked the blood of Jesus to protect Trump and his family from any witches or curses.
"God, we bind the spirit that would cause us as Americans not to find common ground God where witches and folk on the dark side are trying to take authority over realms that they have no power God," Daniels declared in a Facebook post.
"We decree and declare that the effectual fervent prayer of the righteous avail much and God as the people of God come out of the closet."
Robertson has backed Trump on a number of occasions, and earlier in February suggested that those who oppose the U.S. president are revolting against God.
"I think, somehow, the Lord's plan is being put in place for America and these people are not only revolting against Trump, they're revolting against what God's plan is for America. These other people have been trying to destroy America," Robertson said at the time, pointing the finger at left-wingers and "so-called progressives."
"They want collectivism. They want socialism. What we're looking at is free markets and freedom from this terrible, overarching bureaucracy."