Paula White Wrapped in Torah Scroll by Rabbi Ralph Messer in 2009 Video
New Destiny Christian Center and Without Walls Church Leader's Attorney Denied 'Ceremony' Took Place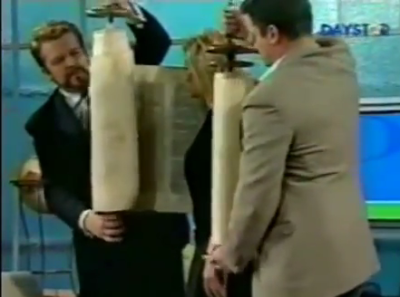 A video showing minister Paula White being wrapped in a Torah scroll by controversial rabbi and television personality Ralph Messer has emerged only days after White's attorney denied the pastor's endorsement of Messer following a "coronation" ceremony involving Bishop Eddie Long.
The ceremonial wrapping seen in the 2009 video (shown below) of Messer on White's program, "Paula Today," is almost identical to Messer's wrapping of Long during a recent sermon at the minister's New Birth Missionary Baptist Church in Lithonia, Ga., as seen in a video clip that has gone viral on YouTube since its posting on the Internet last week.
Following Long's controversy, all eyes turned to White when local press suggested over the weekend that the charismatic pastor of Without Walls International Church might be "crowned" queen during a Super Bowl Sunday service at NDCC, where she also serves as senior pastor.
White then issued a statement via PaulaWhite.org, calling the allegation "utterly and completely false."
"There is not a single shred of truth in it. Nevertheless, the newspaper has continued to post this ridiculous story, even after Pastor White's representative repeatedly denied the story directly to the publisher," the statement read.
White has previously interviewed Rabbi Messer, reportedly a Messianic Jew, on her television show, the statement affirmed. However, the statement also insisted that White has "no ties or affiliation" with Messer and that "she does not endorse him in any way, and she will not be participating in any events with him."
Included with White's statement was a comment her attorney, Daniel Beirute, made to the Florida Courier's publisher, in which he called the publication's report a "ridiculous fantasy" and insisted that White "has no ties or affiliation with Mr. Messer. She does not endorse him in any way, and she would never consider participating in any so-called coronation under any circumstances, whatsoever."
But the 2009 video, which has already gone viral on the Internet, clearly shows Messer performing a nearly identical Torah wrapping on the pastor, which have led some to speculate that White's attorney was not entirely forthcoming in his statement. 
The Christian Post left a message for White at both NDCC and Without Walls, both of which are located in Florida, but no calls were returned by press time. A message was also left with Rabbi Messer, who leads Simchat Torah Beit Midrash in Centennial, Colo.
The ceremony involving Long, interpreted as a "coronation" ceremony by observers, is said by Messer to be symbolic of Long being "wrapped in the Word of God," which serves as protection for the person within the scroll's folds. Both Messer and Long received harsh criticism from Jewish observers, as the Torah is seen as sacred in Judaism. Following a bashing from the Anti-Defamation League, Long publicly apologized Sunday for participating in the ritual.