Perry Noble Speaks Out After Firing: If You Love Me, Keep Going to NewSpring Church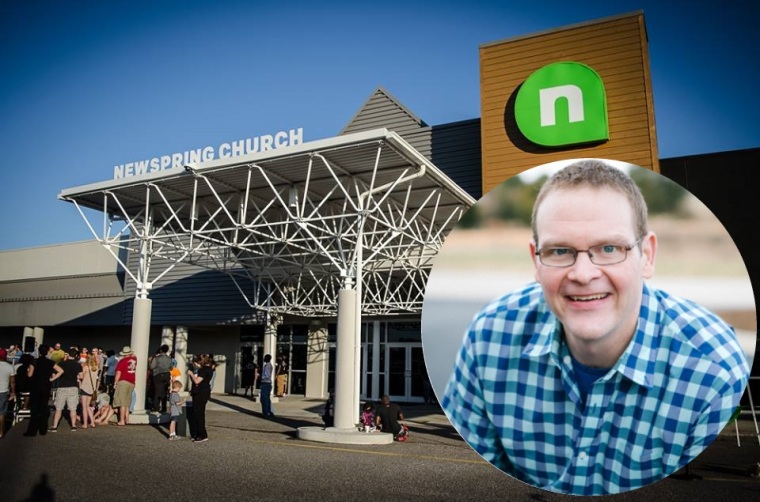 Perry Noble has reemerged on social media following his firing as pastor of NewSpring Church due to issues related to alcohol abuse, and revealed that he is checking into a treatment facility, and will fight for his family.
Noble said in a Facebook video on Wednesday that he is grateful for the "unbelievable support" that he has received this week as news of his firing spread through the South Carolina megachurch congregation, noting that he "felt those prayers."
"I want to say to everyone at NewSpring Church that I am sorry that I allowed a dependency on alcohol — I ran to it rather than to Jesus for my comfort, and that was wrong and I am sorry. I am going to do whatever it takes to make it right," Noble said.
"I am checking into a treatment facility, and I am going to work with some excellent people who are really going to help me take my text steps. I am serious about fighting for my wife and my daughter, and I am serious about following Jesus."
NewSpring Church Executive Pastor Shane Duffey revealed on Sunday that while firing Noble was "the most difficult and painful decision we've had to make," it was a necessary one due to the pastor's choices.
"Over the course of several months our executive pastors met with and discussed at length with Perry these concerns regarding his personal behavior and his spiritual walk, Perry's posture towards marriage, increased reliance on alcohol and other behaviors were of continual concern," Duffey explained.
"Because Perry chose not to address these ongoing issues and didn't take the necessary steps toward correcting them, he is no longer qualified as outlined in I Timothy 3 and the church's bylaws to continue as pastor of the NewSpring Church. We will continue to love Perry and his family during this difficult time. And we are committed to continue to pray for his healing," he added, but said he would not give further details about Noble's mistakes.
NewSpring later announced that it has appointed as interim Senior Pastor Clayton King, the leader of Crossroads Worldwide ministry, a decision which Noble said he fully supports.
"I fully endorse NewSpring's decision to bring Clayton King on as the interim pastor. He is a great man of God. He is a Godly father, he is a Godly husband," Noble said in a Facebook video.
The now former senior pastor addressed members who feel angry at the church for firing him, but said that if they really love him, they should not give up on NewSpring.
"If you love me, be at NewSpring this Sunday. And the next Sunday, and the next Sunday. I still love my church," he declared.
Noble added: "God has gotten my attention. I am focused on getting better. I am not bitter. I'm going to get through this, we're going to get through this, and I still believe that NewSpring is going to reach 100,000 and beyond."
In his official statement on Sunday, Noble did not address specific details about his firing, but spoke out on the topic of alcohol and the Bible, saying that he does not believe it is prohibited, except when it reaches the level of drunkenness and intoxication.
"I never had a problem drinking alcohol socially, but in the past year or so I have allowed myself to slide into, in my opinion, the overuse of alcohol," Noble said at the time.
"This was a spiritual and moral mistake on my part as I began to depend on alcohol for my refuge instead of Jesus and others. I have no excuse — this was wrong, sinful and I am truly sorry."