Preparations for Perhaps Largest Evangelistic Event in US History on Track; Billy Graham's Message 'The Cross' Complete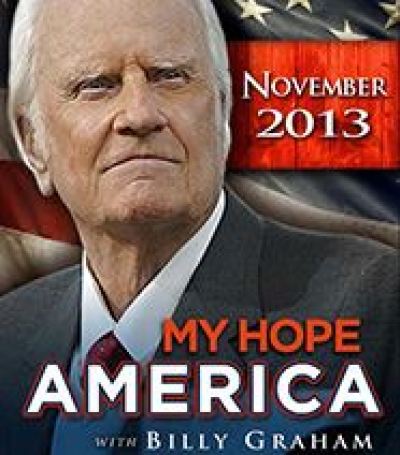 Preparations for perhaps the largest evangelistic event in U.S. history continue for Billy Graham and his ministry team with just three weeks to go before the famed preacher's message "The Cross," filmed from his home in North Carolina, is planned for broadcast through multiple platforms.
The event, scheduled to coincide with Graham's 95th birthday, is named, "My Hope America with Billy Graham," and is a nationwide effort to reach people with the Gospel of Jesus Christ, states the Billy Graham Evangelistic Association. Unlike traditional large-scale evangelistic events, the outreach is designed for Christians, whether they be a pastor, ministry leader, or lay person, to invite guests and host a viewing in a chosen venue, possibly even a home.
"In 'The Cross,' Billy Graham delivers his much-anticipated new message, filmed from his home in North Carolina, on the meaning of the cross – the same message of God's love he has faithfully preached for more than 70 years," BGEA spokesperson Brent Rinehart told The Christian Post via email. "Woven within Graham's message are the faith stories of two popular musicians: rapper LeCrae who overcame addiction and the pull of the gang lifestyle to see his life changed by an encounter with Jesus; and former Flyleaf lead singer Lacey Sturm who fought depression, hopelessness and suicidal thoughts only to be rescued by the love of a Heavenly Father and the hope that comes through a relationship with His Son."
"Following a simple biblical model, My Hope America with Billy Graham combines the impact of video programs with the power of personal relationships," organizers said. "Christians across America will open their homes [Nov. 7-10] to share the Gospel message with friends, family, colleagues, and neighbors using one of several new evangelistic programs featuring life-changing testimonies and powerful messages from Billy Graham."
More than 25,000 churches have signed up for My Hope, including some of the largest congregations in America who see this as an opportunity to share the Gospel "at a level never quite seen before."
Two highly anticipated projects released this week to the public: Graham's new book The Reason for My Hope: Salvation and My Hope: Songs Inspired by the Message and Mission of Billy Graham.
In the new book, published by Thomas Nelson, Graham presents the core message that has guided his life and calling for more than 70 years. In The Reason For My Hope, Graham addresses the important question: Who would refuse rescue?
"What we seldom stop to realize is that when we are rescued from something, we are also saved for something," Graham writes. "When we are rescued by someone, we are indebted to the one who has saved us from disaster, impending doom, and perhaps from death itself." Throughout the book, he emphasizes the importance of experiencing the joy and peace that come from a relationship with Jesus Christ.
On the Capitol Christian Music Group music album My Hope: Songs Inspired by the Message and Mission of Billy Graham, some of the biggest names in Christian music, all with a special connection to Graham, have come together to honor the message Graham faithfully preached through the decades. The album includes 12 new recordings from such artists as Michael W. Smith, TobyMac, Amy Grant, Newsboys, Kari Jobe, Matthew West and more. "Every song is a sincere tribute to the inspiring message and mission that is so close to the heart of Billy Graham," states BGEA.
"The Cross," (video teaser below) containing Graham's new message to be shown Nov. 7-10 is complete and BGEA says there is still time for individuals and churches to get involved and to invite people to "join in watching this important message – a message of hope for our nation."
On the Web: www.myhopewithbillygraham.org.