Rand Paul Announces Presidential Run With Focus on Poverty, National Debt, Radical Islam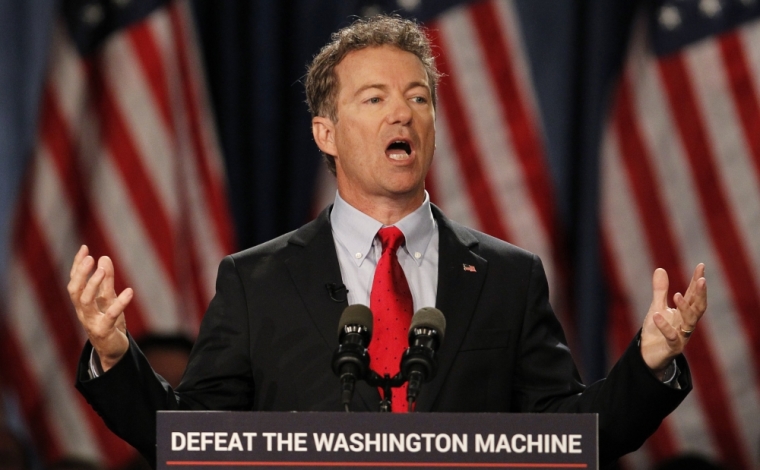 Kentucky Senator Rand Paul launched a new website to announce that he is running for President in 2016 and formally addressed the public in Louisville, Kentucky, with a speech that focused on poverty, the national debt and radical Islam.
"I am running for president to return our country to the principles of liberty and limited government," Paul wrote for his website, with the campaign motto: "Defeat the Washington Machine, Unleash the American Dream."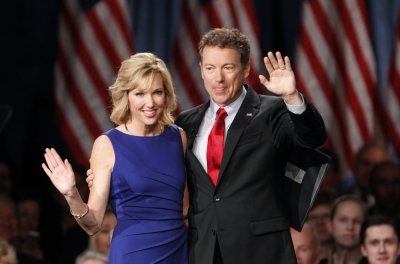 Kelley Paul, Rand's wife, spoke and introduced her husband as a "different kind of legislator."
"I have a message — a message that is loud and clear and does not mince words — we have come to take our country back," Paul opened. "We've come to take our country back from special interests that use Washington as a personal piggy bank … the Washington machine that gobbles up our freedom must be stopped. I want to be part of a return to prosperity, a return to a government restrained by the Constitution. A return to privacy, liberty. Too often when Republicans have won, they have squandered their opportunity and become part of the Washington machine."
He then told the story of working with a couple whose vision had been tempered by hardened cataracts and were able to finally see clearly again after surgery. Paul also spoke of his grandmother, who inspired him to become an eye surgeon. He wanted to make a difference in people's lives and noted that he worried that opportunities were slipping away from the public and future generations.
"Both parties and the entire political system are to blame," Paul said. "Big government and debt doubled under a Republican administration and is now tripling after President Obama's watch. We borrow a million dollars a minute; this vast accumulation of debt threatens our economy and security. We can wake up and stop spending money we don't have. This message of liberty is for all Americans from all walks of life. We must not give up on our principles."
"Washington is horribly broken; I fear it can't be fixed from within. We the people must rise up and demand action. Congress will never balance the budget unless you force them to do so. Congress has an abysmal record with balancing anything. I have been to Washington, and let me tell you, there is no monopoly on knowledge there. I believe it now more than ever, we limit the president to two terms — we must limit the terms of Congress. I want to reform Washington; I want common-sense rules, which is why I've introduced a 'Read the Bills Act'" that will ensure members of Congress will have time to read every bill that they are asked to vote on.
Paul then spoke passionately about self-esteem that comes with hard work, which he said is not a punishment but a reward. He noted that he is very proud of his sons, who work for minimum wage, and he wants every American to have the same opportunity. However, they are being left behind as the poor get poorer and the rich get richer. Paul introduced a plan of "economic freedom zones" to allow them to prosper and by lowering taxes. He also said he wanted to encourage infrastructure across the country and lower the tax on American jobs in order to get that work done.
"Liberal policies have failed our inner cities. Let's just get the facts straight — they have failed our inner cities. The poverty gap continues to widen. Martin Luther King spoke of two Americas … although I was born into the America of prosperity, my trips to Appalachia and Detroit have opened my eyes … that we need a new way, a way of opportunity and freedom," Paul said. "Those of us who enjoy the American dream must break down the wall that separates us from those who do not. It won't happen unless we realize we cannot borrow our way to prosperity. I propose something extraordinary — let's just spend what comes in."
Paul also spoke of the need to defend America from enemies, but only once those enemies are named. The enemy, he said, is radical Islam, and "not only will I defend America from radical Islam, I will do what it takes to defend the country from those who hate mankind." And he will take the Ronald Reagan approach to Iran, which says that any deal between the two countries must be approved by Congress.
"Today begins the journey to take America back. Today I announce with God's help, with the help of liberty lovers everywhere, that I am putting myself forward as a candidate for the Presidency of the United States of America," Paul concluded.
He has been married for 24 years to wife Kelley, and they have three sons: William, 21; Duncan, 18; and Robert, 15. The couple are devout Christians and are active in their local church. He completed a general surgery internship at Georgia Baptist Medical Center in Atlanta, Georgia. Paul continues to donate his time and work as an ophthalmologist to seniors and patients across Kentucky while also providing pro bono eye surgeries for children around the world.