Rapper DMX Reads Bible Verses to Struggling Fan on Los Angeles Street (VIDEO)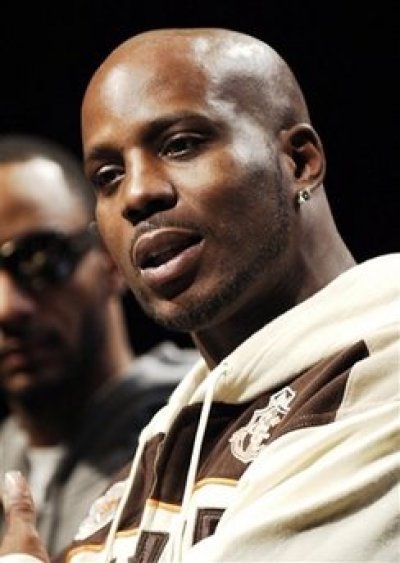 Rapper Earl "DMX" Simmons, 42, recently recited bible verses in front of a Los Angeles restaurant to a woman who had fallen on rough times, a new paparazzi video shows.
The video shows the rapper reading from a bible while standing on the sidewalk in front of Wi Jammin' Caribbean Restaurant on Pico Boulevard in Los Angeles, Calif. Although it is unclear exactly which bible verse the rapper is reading, he does seem to be advising the female fan on the importance of trusting in God's will.
According to TMZ, the rapper had been exiting the restaurant when he met the fan, who said she had been going through tough times in her life. Without missing a beat, DMX reportedly got out and provided his own bible to the woman to offer some guidance.
Although he has previously had multiple run-ins with the law, rapper DMX has said that he has dedication his life to Jesus and the teachings of the bible. The Yonkers, N.Y.-native revealed in Sept. 2012 that he was going to become a deacon at his Morning Star Sanctified Church in Arizona.
DMX went on to say that although he has read the bible in its entirety, he admits he has more soul searching to do in order to become a better Christian.
"The biggest step is not in the studying, reading, but the warning to change the way you live. Wanting different things for yourself, and making that change because if you still want to drink and smoke, you could read as much as you want, that doesn't mean you're ready," the rapper said in a Global Grind interview last year.
DMX has had a troubled past himself before finding more strength in his faith, and he previously served time in jail, including serving a sentence in 2008 for charges that included animal cruelty, drug possession, and theft. The rapper has previously said that he believes he was meant to go to jail to teach fellow inmates about Jesus Christ. "I came here to meet somebody," he said in an interview with MTV at the time of his incarceration. "I don't know who it is, but I came to tell them that Jesus loves them. To tell them about the glory of God."
DMX has been criticized by some in the Christian community for his explicit rap lyrics that often involve themes of violence and crime, but he has defended himself in past interviews, saying the lyrics are just written in response to the rap culture and are not meant to be taken literally.