Rapper Nas Rallies Americans to Help Homeless Widower, His 8 Children Find a Home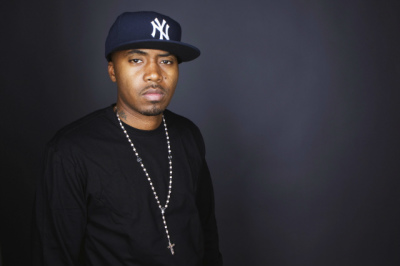 Nasir Jones, the popular rapper otherwise known as Nas, has successfully rallied thousands of strangers from across the nation to open their hearts and wallets to help an unemployed Washington, D.C. man and his eight children find a new home after a sudden fire forced them to move into a hotel.
After learning last week about the Youngs in a news report, Nas, a single father himself, immediately leaped into action by launching a crowdfunding campaign, and immediately plunking down $5,000 of his own money.
"I am also a single father, and we don't get enough credit in this country. I'm committed to helping Stanley and his eight (yes 8!) kids. Moreover, I believe and hope that we should all, as a community, come together to help our fellow American men and women when they need us in desperate situations like this," Nas explained online at the start of the campaign.
Although the prolific rapper's initial goal was to raise $50,000 for the Youngs, Nas and a growing list of contributors have pushed well past that target, which inspired the NYC rapper to add an additional $5,000 of his own money to the pot.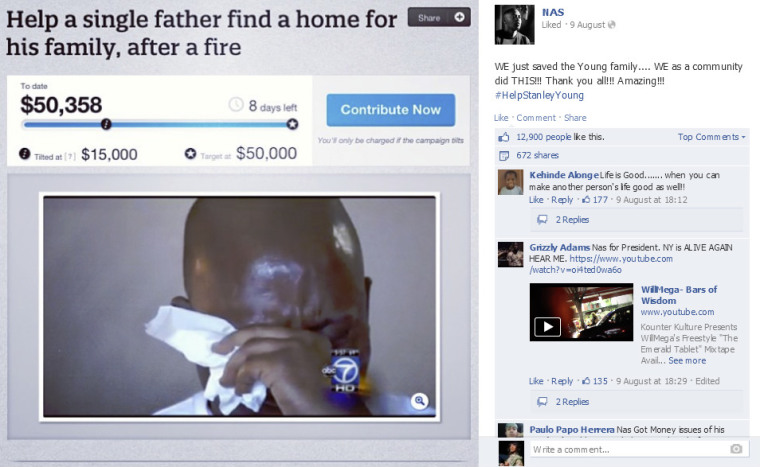 With less than a week left before the deadline, the giving doesn't seem to be letting up. As of Tuesday, Nas and more than 2,219 contributors had put together over $63,000 for the Young family. The Crowdtilt campaign page had also been shared more than 10,000 times.
The rapper's selfless move inspired some of his fans into action, with one of them suggesting that Nas was the kind of example young hip-hop artists needed. "(Forget) cars, clothes and hoes. This is what matters," the person commented.
Nas, who said he had never been moved to do something like this before, ensured would-be supporters that he was serious about helping the Youngs get back on their feet by raising enough money to possibly help them make a down payment on a home.
"This is real. It is me. I'm putting in $5,000 myself. Never done something like this, but I have faith that our American community can pull together a miracle for this strong family who needs our help right now," he added.
The Youngs' story was broadcast and published online on Aug. 6 via ABC News affiliate WJLA-TV in D.C.
Young, a 40-year-old construction worker who lost his wife last year, broke down in tears on camera as he explained the difficulty he was having in making sure his eight children would have a home.
"My kids are my priority, my number one priority," he told WJLA-TV.
"They're my life, they're my world," he added. "Now I see what single mothers go through. It's definitely gotten harder for me."
The news station reported that Young had been working with the Red Cross, his family, church and the D.C. Office of the Tenant Advocate to secure a home large enough for his family.
However, Nas has managed to turn the family's situation completely around.
Instead of feeling at his wit's end, Stanley Young has been in awe of the "miracle" that's unfolded due to the generosity of complete strangers.
"So many people just came out of nowhere and put out money and we were blown away," said Young in a follow-up interview with WJLA-TV.
"He don't have to do what he had to do," the father of eight said of Nas. "People, strangers I don't even know, never met before in my life, are helping and that's amazing."
His daughter, 11-year-old Camille Young, added in between tears, "Some of it kinda felt like it was a miracle."
Nas thanked Young, whom he called his "neighbor," for being "the true American dream."
"I'm grateful to Stanley," he said. "He's the true American dream. A man who would do whatever it takes to take care of his kids. I'm the same way and I just think he's great."
"As a single father I couldn't help but feel for Stanley. He has my respect as a man. It takes a real one to do whatever it takes to help his family," Nas said in a separate statement through his publicist. "I want to help the Young family get a fresh start on life and I want the world to know that they can help make a difference if they stick together. We are learning an incredible lesson and Stanley is the teacher of that lesson. I cannot wait to meet them in person."
The rapper said he hopes to meet the Youngs — all nine of them — later this summer.
According to The Washington Post, Nas, 39, has made philanthropic efforts before. The top-selling MC has helped UNICEF hand out aid in Africa, donated $14,000 earned through an auction to charity, and, last year, gave away 200 dolls to girls with the help of the Saving Our Daughters' 8th Annual Bratz Doll Drive.