Robert Jeffress: Obama's 'Demonization' of Conservative Christians 'Comes to an End' at Trump's Inauguration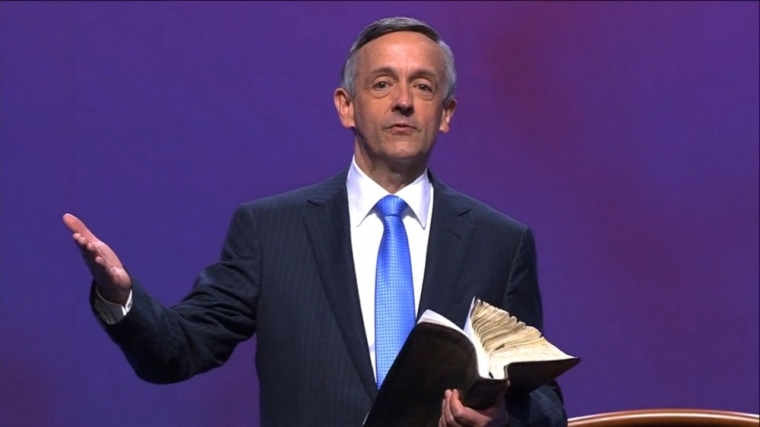 Pastor Robert Jeffress of First Baptist Dallas church in Texas has said that President Barack Obama's "demonizaton" of conservative Christians over issues such as gay marriage and abortion will "come to an end" on Friday, during President-elect Donald Trump's inauguration.
Jeffress was asked by Lou Dobbs on Fox Business for his reaction to the recent Pew Report that showed that Christianity in America has dropped during Obama's presidency, but the megachurch pastor refused to blame Obama for such statistics.
"As our country becomes increasingly secular, atheists feel more comfortable to 'come out of the closet' and tell pollsters what they really believe, instead of what people think they should believe," he said of the rising number of non-religious people in America.
Still, Jeffress blamed Obama's administration for its "marginalization and vilification" of conservative Christians.
"To Barack Obama, if you believe in traditional marriage, you are a homophobe. If you believe men shouldn't go into women's bathrooms and showers, you are a bigot. If you believe the unborn have a right to life, you must hate women," the pastor said, touching upon the controversial social issues that have marked Obama's presidency.
The First Baptist Dallas leader, who supported Trump during the election, and has claimed the Republican will be a great friend of Christians, said that he has high hopes for the incoming administration.
"The good news is, the vilification of conservative Christians by the president of the United States is coming to an end this Friday, with the inauguration of Donald J. Trump," he declared.
Jeffress added that one of the main changes will be an end to the "demonization of conservative Christians" by the president.
Jeffress has been highly critical of Obama's presidency, not only on social issues, but also in the face of Christian persecution around the world. Earlier in January, the pastor claimed that Obama had "blood on his hands" for not doing enough to stop the genocide of believers in the Middle East.
Commenting on a major report released by Italian sociologist and author Massimo Introvigne, which found that over 90,000 Christians were killed in 2016, the pastor claimed that both Obama and Sec. of State John Kerry "have blood on their hands for a lot of this."
He also said that although he does not believe Obama to be a Muslim, the Islamic faith has still played an important role in his upbringing and worldviews.
"I think Barack Obama thinks that Muslims are the ones being persecuted, and he has to change that. The fact is he is contributing to Christians being persecuted, not only around the world, but in America as well," Jeffress said.
Last week a Christian Post report pointed out that although Obama found himself at odds with self-identified evangelical Christians throughout his presidency, there were still a number of instances where he found common ground with evangelicals — such as his efforts to promote criminal justice reform.
Southern Baptist Convention Ethics & Religious Liberty Commission President Russell Moore said in September 2016 that Obama was "very receptive to everything that we were saying, including the importance of faith-based ministries to prisoners," referring to an evangelical push for such reform.