San Diego State Aztecs vs New Mexico State Aggies Live Stream: Watch March Madness 2014 NCAA Men's Basketball Online (truTV Start Time, Second Round TV Schedule)
The San Diego State Aztecs play the New Mexico State Aggies on Thursday night in the Second Round of March Madness. The 2014 NCAA Tournament Round of 64 is one of the most exciting and this game concludes Thursday's NCAA games, with 16 more games scheduled for the Second Round on Friday.
Today's game between the San Diego State Aztecs and the New Mexico State Aggies will start at 9.57 p.m. ET and can be watched on TV on the truTV network, or online through free live stream by clicking here.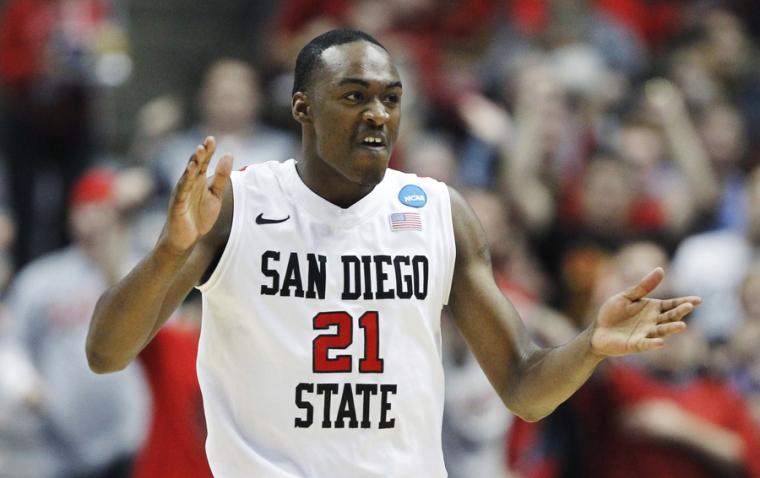 The Second Round of March Madness 2014 gets started on Thursday and will feature 16 games going on all day through to the late hours tonight.
As well as the defending champions Louisville playing today, top seeded Florida also take to the court on Thursday, and over the next two days this should arguably be one of the best 48 hours of American sports in 2014.
The First Four Games took place over the past few days and saw the teams whittled down to the final 64. Of course the NCAA introduced the "First Four" in 2011 in an effort to expand the tournament even more.
The Round One winners made it through to the traditional grouping of 64 teams. Some have criticized the First Four round, but others point out it was the lesser of two evils, as organizers were originally touting expanding the NCAA to 96 games.
The 64 teams have now been confirmed and have been divided into four different regions, with each region containing 16 teams. The Selection Committee has seeded each of the 16 teams in each region from 1 through 16 based on the teams' records, strength of schedule.
In this Second Round, the highest seeded teams are given the reward of facing teams that are theoretically supposed to be easier to beat – the lower seeded teams; so the No. 1 seeds face the No. 16 seeds, and the No. 2 seeds face the No. 15 seeds and so on.
On Sunday, the NCAA announced that Florida, Arizona, Virginia and Wichita State would be 2014's number one seeds.
An NCAA 2014 March Madness printable bracket can be found by clicking here.
Here is the full schedule for Thursday's March Madness 2014 Men's Basketball Round Two:
No. 6 Ohio State vs. No. 11 Dayton, 12:15 p.m., CBS
No. 2 Wisconsin vs. No. 15 American, 12:40 p.m., truTV
No. 8 Colorado vs. No. 9 Pittsburgh, 1:40 p.m., TBS
No. 5 Cincinnati vs. No. 12 Harvard, 2:10 p.m., TNT
No. 3 Syracuse vs. No. 14 Western Michigan, 2:45 p.m., CBS
No. 7 Oregon vs. No. 10 BYU, 3:10 p.m., truTV
No. 1 Florida vs. No. 16 Albany, 4:10 p.m., TBS
No. 4 Michigan State vs. No. 13 Delaware, 4:40 p.m., TNT
No. 7 UConn vs. No. 10 Saint Joseph's, 6:55 p.m., TBS
No. 2 Michigan vs. No. 15 Wofford, 7:10 p.m., CBS
No. 5 Saint Louis vs. No. 12 North Carolina State, 7:20 p.m., TNT
No. 5 Oklahoma vs. No. 12 North Dakota State, 7:27 p.m., truTV
No. 2 Villanova vs. No. 15 Milwaukee, 9:25 p.m., TBS
No. 7 Texas vs. No. 10 Arizona State, 9:40 p.m., CBS
No. 4 Louisville vs. No. 13 Manhattan, 9:50 p.m., TNT
No. 4 San Diego State vs. No. 13 New Mexico State, 9:57 p.m., truTV