Satanic Temple Founder Says Over Half of Members Could Be LGBTQ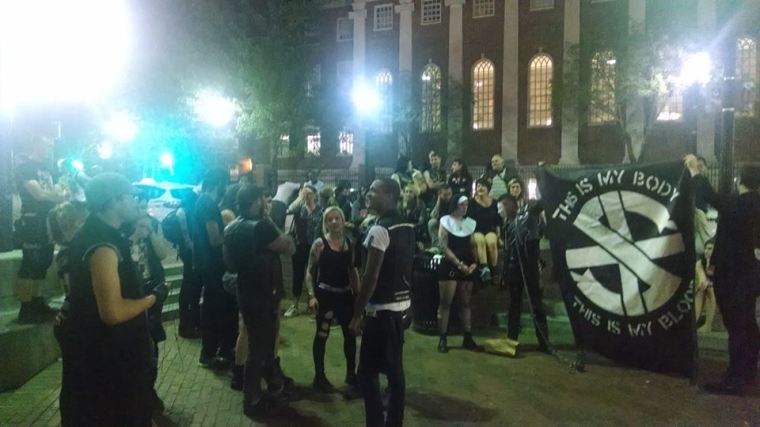 The co-founder of the Satanic Temple said that he would "not be surprised" if over half of the group's members identify as LGBTQ because of its "radically-inclusive space."
"We don't have strict separations or definitions of our gay membership, our trans membership, or anybody else," Lucien Greaves said in an article for Vice published on Monday.
Still, Greaves offered that "he wouldn't be surprised if more than half identify as such."
Vice described the Satanic Temple as a "platform for LGBTQ members to celebrate their identities," and suggested that they are drawn by the "radically-inclusive space for people who identify in all sorts of ways."
Greaves explained in previous interviews that the Satanic Temple's members do not believe in Satan and God as literal beings, but view Satan as a "metaphorical construct" of rebellion.
As Ash Astaroth, who is now the director of the Temple's headquarters in Salem, Massachusetts, said in the Vice article:
"Queer is an extra layer on top of being gay just like Satan is an extra layer on top of being an atheist."
Previous polls have shown a strong link between LGBT and non-religious identification, as well as heavy support from atheists and agnostics for LGBT concerns.
A 2014 Pew Forum survey found that 94 percent of both atheists and agnostics said that homosexuality should be accepted by society, which was more than any other group in America.
A separate 2013 Pew poll found that LGBT adults are less religious than the general public, with nearly half, or 48 percent, stating that they have no religious affiliation. What is more, three-in-ten LGBT adults said that they have been made to feel unwelcome in a place of worship.
The Satanic Temple found itself in the center of controversy earlier in July following mass Christian protests in Belle Plaine, Minnesota, over a planned Satanic monument meant to honor veterans.
Over a hundred Christians came out for a prayer-filled rally at Veteran's Memorial Park, holding signs such as "Satan takes souls to hell for eternity."
Local Roman Catholic clergy also spoke out against the monument, which was planned as a 23-inch by 23-inch black steel cube inscribed with inverted pentagrams.
"Sometimes these things which are evil can really, maybe, wake some people up. We really have to take our faith seriously and live it," said Fr. Brian Lynch, pastor of Our Lady of the Prairie parish.
"It feels like it's being imposed on us from the outside," Lynch added.
The Belle Plaine City Council later decided to eliminate the Free Speech Zone at the park that would have hosted the Satanic monument and other religious monuments. A statue of a soldier kneeling before a Christian cross and grave was subsequently removed.