Minn. City Gets Rid of Free-Speech Zone at Vets Park After Row Over Cross, Satanic Monuments
The Belle Plaine, Minnesota, City Council responded Monday night to the large protests against a planned Satanic memorial at the local Veterans Memorial Park, by deciding to eliminate the Free Speech Zone that offered room for different religious monuments.
"The original intent of providing the public space was to recognize those who have bravely contributed to defending our nation through their military service. In recent weeks and months, though, that intent has been overshadowed by freedom of speech concerns expressed by both religious and non-religious communities," Belle Plaine city officials said in a statement on Tuesday.
"The debate between those communities has drawn significant regional and national attention to our city, and has promoted divisiveness among our own residents."
Shakopee Valley News reported that religious monuments will no longer be allowed at the memorial park. This includes "Joe," the statue of a soldier kneeling at a grave marked by a cross, and the "bowl of wisdom" inverted pentagrams monument that had been planned by the Massachusetts-based Satanic Temple.
Following the council's decision, the area in the park that had been designated for memorials will now remain empty, except for the U.S. flag stuck into the ground where "Joe" was once erected.
"While this debate has a place in public dialogue, it has detracted from our city's original intent of designating a space solely for the purpose of honoring and memorializing military veterans, and has also portrayed our city in a negative light," the statement from the council continued.
"Therefore, the Council believes that it is in the best interests of our Belle Plaine community to rescind the resolution, and bring this divisive matter to closure."
Freedom From Religion Foundation had threatened to sue city officials earlier this year if the Satanic Temple monument was not allowed to be placed at the park, arguing that a Christian memorial can not be the only one given representation.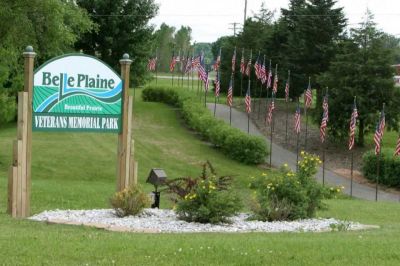 Over a hundred Christians held a payer-rally on Saturday against the decision to allow the Satanic moment, however.
Some of the protesters held signs reading "Satan takes souls to hell for eternity" and "Satan belongs in Hell, not our Veteran's Memorial Park," while Roman Catholic clergy warned against what Satanic influences might bring to the city.
"Sometimes these things which are evil can really, maybe, wake some people up. We really have to take our faith seriously and live it," Fr. Brian Lynch, pastor of Our Lady of the Prairie parish, told The Catholic Spirit, newspaper of the Archdiocese of St. Paul and Minneapolis.
"It feels like it's being imposed on us from the outside," Lynch added.
Satanic Temple co-founder Lucien Greaves said that his group celebrates Satan only as a "metaphorical construct" of rebellion, however.
"We really do embrace the opportunity to put up a memorial tribute to veterans in their honor," Greaves said back when the Free Speech Zone was established.