Priest Warns Satanic Temple's Memorial in Minnesota Could Victimize, Lead Children Into Satanism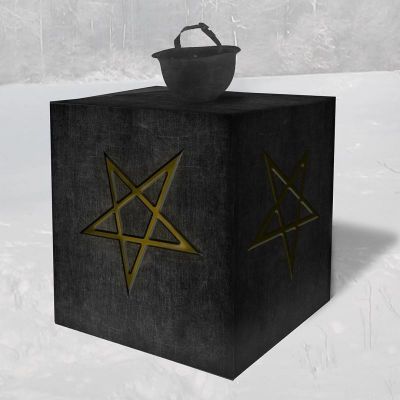 A Roman Catholic priest has warned that if the Satanic Temple erects its memorial to dead soldiers in Belle Plaine's Veterans Memorial Park in Minnesota, it could lead to the grooming and victimization of children by Satanists.
"The inverted pentagrams on the Satanic monument proposed by the Satanic Temple will prompt young people to consider Satanism for themselves and to reject the good moral behavior required for an ordered and peaceful society," Father Brian Lynch of Our Lady of the Prairie in Belle Plaine warned in his address to the city council on Monday, as reported by The Catholic Spirit.
The Satanic Temple, headquartered in Salem, Massachusetts, was granted the right to erect its "Luciferian light" memorial alongside Christian memorials at the park in April, when city officials designated the area in the park a "free speech zone."
The move was done to allow other religions and organizations to erect their own temporary memorials and prevent lawsuits against Christian memorials.
The Satanic memorial, in the form of a "black cube, inscribed with inverted pentagrams and crowned by an upturned helmet," represents in part "humanistic perfection through curiosity and reason," Artist Chris P. Andres said in February.
Lynch warned that it could be used for much more sinister purposes, however.
Pointing out that "children spend unsupervised time in or near Veterans Memorial Park" on their way to school and other locations, the priest said at the council meeting that "the monument may also attract pre-existing Satanists to our community as a place for theistic Satanic ritual activities that victimize our children."
He argued that this could lead to a "form of grooming similar to that used by pedophiles."
"This grooming is intended to not only make children afraid to report the abuse they suffer at the hands of Satanists, but also, to feel personally responsible for the evil they have suffered as youthful victims," Lynch continued.
"Most disturbing is the fact that theistic Satanic ritual activities are known to include deviant sexual acts with and among children."
Lucien Greaves of The Satanic Temple responded to Lynch's comments by telling The Friendly Atheist blog:
"It is unnecessary to point out the irony in seeing a representative from the Catholic Church decrying a perceived threat to children posed by religious Satanists."
"Being that the bizarre conspiracy theory-based Satanic Panic libels propagated by 'Father' Lynch — that of organized Ritual Abuse engaged in by Satanists — has no credible evidential foundation whatever, one might reasonably harbor suspicions of projection on the pastor's part," Greaves added.
"Father Lynch's combination of indignant unreason and projection of repressed guilt and/or desire are exactly what witch-hunts are built upon."
Belle Plaine residents have said in the past that they are not surprised that other groups would want to put up their own memorials at the park.
"Everyone understood this could happen," said Andy Parrish, who led the charge to restore the Christian cross memorial, which had initially been removed due to the Satanists' complaint. "It's more annoying than it is offensive."
Katie Novotny, who also supported the move to keep the Christian cross, noted, "If you're truly a Christian, how can you be offended by someone wanting to honor our veterans even though they don't believe in the same things we believe in?"