Seattle Seahawks' Russell Wilson, Players Agree With Assistant Coach: 'Jesus Is Better Than Super Bowl'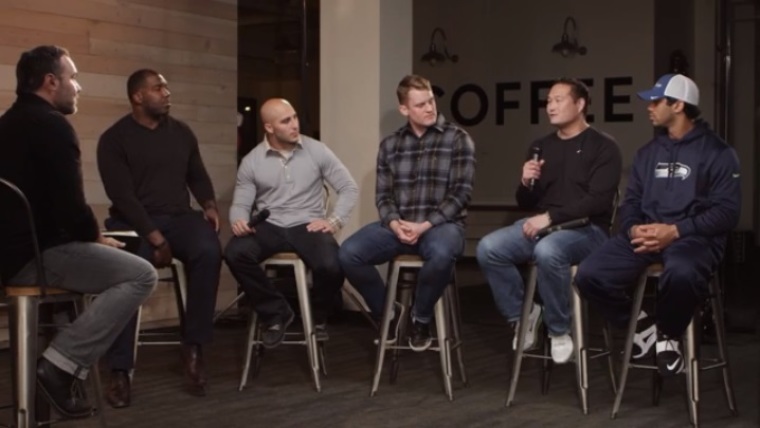 Jesus Christ is better than anything, including the Super Bowl, said an assistant coach for the Seattle Seahawks during a recent videotaped interview with Mars Hill Church Pastor Mark Driscoll, as four of the team's players, including quarterback sensation Russell Wilson, appeared to nod in agreement.
"Literally, Jesus is the greatest treasure in the universe," said Rocky Seto, who is on the Seahawks coaching staff. "It just makes sense. It's not like you give up your life and then you get something worse. He gave us everything. We had nothing, He gave us everything, so literally it's just one plus one equals two, it's that simple. Jesus is better than anything… even better than the Super Bowl, better than an NFL career, any of that."
In a video (see below) released Friday on the Resurgence website, a resource network for Christian leaders, Driscoll said that the Seahawks, who will be playing the San Francisco 49ers this Sunday for a chance to be in the Super Bowl, are the "greatest team on earth."
Seto, as well as three of the players, gave their answers to Driscoll's question, "Who is Jesus?"
"Who knows what's going to happen, but if we were ever to win the Super Bowl… [we will] tell everyone that Jesus is still better," said Seto, while the other players appeared to nod in agreement. "Because as much as we worship this thing called 'the ring' in a championship, although we would like to have one for sure, I just can't wait to tell people, if that happens, God willing, we'll be able to tell people Jesus is way better still because you are going to wake up the next day, [and] things are going to be the same if you don't have Jesus.
"If you have Jesus it's still going to be awesome, win or lose," the Seahawks' defensive passing game coordinator said.
"Jesus is love," starting quarterback Russell Wilson explained. "At the end of the day, we are all looking for someone to comfort us, somebody to be there for us at all times. When we are at the worst times of our lives, when we are battling with something, or struggles, whatever it may be, when we are at our highest point as well, when things are going really well, we want somebody to comfort us and be there for us and to say, 'Well done.' That's Jesus. Jesus has always been there. He'll never leave you, never forsake you."
Offensive tackle Russell Okung began his answer to Driscoll's question by saying, "Jesus is everything."
Okung continued, "And the great thing about Jesus is He'll meet you right where you're at. It's free. You don't have to earn it. You don't have to work for it. He gives it because he loves us and He is full of grace. "
Free safety Chris Maragos said, "He's the Alpha, He's the Omega. He's the beginning and end of everything.
"To understand where we've reached, which is in the world's view quote-unquote 'the pinnacle,' you really see how empty that is. Having Jesus in my life, you really see how important that is because you see that He is everything.
To take Jesus, who is perfect, and to be so humble as to come to earth as a mere man and to live the life that He lived despite knowing my sin, to go on the cross and to die for my sin and our sin and everyone's sin – to me, that's everything. That's joy, that's peace, that's love to think that He and His perfection would do that despite knowing really the depths of who I am."
On the Web: http://theresurgence.com/2014/01/17/jesus-is-better-than-the-super-bowl