SoCal Harvest: Thousands to 'Take a Stand' for Bible Amid Greg Laurie's Billboard Controversy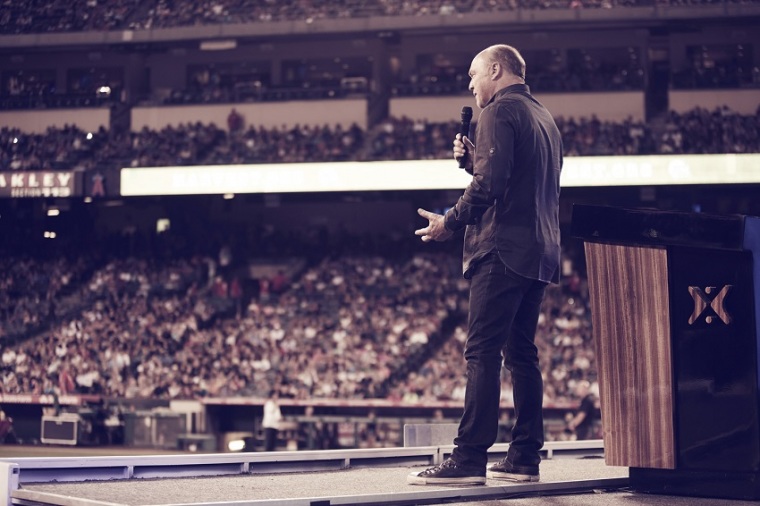 California evangelist Greg Laurie will host his 29th annual Southern California Harvest crusade this weekend but will do so with a bit of a chip on his shoulder.
As upwards of 100,000 people from across California will travel to Angel Stadium in Anaheim for three nights of entertainment, worship and sermons, the 65-year-old Laurie is asking attendees to bring Bibles with them so that they can take a moment each night to hold the Scripture in the air and declare that they are not ashamed of the Word of God.
Although the SoCal Harvest has been a staple event of the megachurch pastor's crusade ministry for nearly three decades, this year's Harvest comes about a week after billboards advertising the event were taken down at two local shopping malls because they featured Laurie holding up a Bible in his hands.
"So I had not planned on giving a message on the Bible Friday night but decided I would because some people are offended by the very sight of it," Laurie, who generally doesn't disclose the topics of his Harvest sermons beforehand, said in an interview with The Christian Post. "My message Friday night is going to be about the power of the Bible."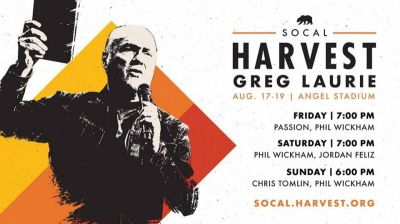 Although people have asked Laurie if he plans to launch a boycott or protest at the malls where the Harvest billboards were taken down, Laurie said that he will respond with the two "secret weapons" of the Church — prayer and preaching.
Not only will his message be tailored toward the importance of the Bible, but he will also be calling on those who attend to take their own stand in support of Christianity's holy text.
"Let's get together for three nights and make a stand for Jesus Christ. The press is there. People are watching. It is hard to ignore 100,000 Christians worshiping God, bringing friends to hear the Gospel and holding their Bibles up. In fact, we have asked everyone to bring a Bible all three nights of the crusade," said the pastor of Harvest Christian Fellowship in Riverside who founded Harvest Crusades in 1990. 
"We have launched a campaign with a hashtag #StandForTheBible. We are going to have a moment all three nights when we all grab our Bibles and just hold it up and say, 'We are not ashamed of the Bible, nor are we ashamed of the Gospel of Christ for it is the power of God unto salvation.'"
The three-night event will feature performances by Christian music stars, including Chris Tomlin, Phil Wickham, Andy Mineo, and the bands MercyMe and Passion. Additionally, attendees Saturday night will be treated to a stunt-filled performance by motocross stars who will also share their personal stories of faith. On Sunday night, actress Madeline Carroll from the hit film "I Can Only Image" will sit down with Laurie to talk about the impact faith has had in her life.
But more important than the entertainment aspect of the Harvest is the fact that thousands are expected to take to the outfield following Laurie's sermons each night to profess their faith for Christ. At least year's SoCal Harvest, over 10,000 people made decisions for Christ. Last year's event was attended by about 92,000.
"We are the first generation in human history that literally has the ability to fulfill the Great Commission in our lifetime," the pastor said. "Right now with the spread of smartphones and all of the technology and the internet, so many people have access to information that did not have access to it before. If we could just stop fighting with each other for a while and work together and pray together and try to reach as many people with the Gospel, it would be amazing what the Church could accomplish."
"It wasn't that long ago that many of us were not believers," Laurie, who found Christ at the age of 17, added. "Someone reached out to us. We need to reach out to others, especially in a country like the United States, where we have this great freedom to proclaim our faith and we have this great freedom to have [Christian news media], why would we not want to use the platforms to get the Gospel to as many people as possible."
Laurie stressed that Christians today should be looking for every opportunity — whether in person or digitally — to use their platforms for Christ.
"Look at the inroads we have made in film like the blockbuster hit 'I Can Only Imagine,'" he said of the 2018 movie named after the best-selling Christian song of all time. "That [movie] reached people in countries that would never probably hear the Gospel but they are going to see it on the movie screen. We need to use every platform, every means of influence everywhere and work together to get the Gospel out."
As far as the billboard company's removal of the Bible advertisement goes, Laurie stressed that the move was merely another sign of "intolerance by a vocal minority" to the Gospel.
"This is a moment for us to stand together for what is true. This whole controversy shows that people even when they are critical are acknowledging the power of the Word of God. That really is what this is. What do they care if I hold a black book up for?" he asked, noting that the Bible featured in the billboard was nondescript.
"If you think the Bible is filled with myths and contradictions, what does it matter to you if I believe it or not? The reason they don't want me to hold it up or anyone else on a billboard is because in their own way, they are acknowledging the power in the book. I am calling for Christians, especially in the Southland, let's have a show of unity and let's stand together and bring our Bibles and come out and say we believe what this book says and we are not ashamed of it."