Over 10,000 Make Decisions for Christ at Greg Laurie's SoCal Harvest 2017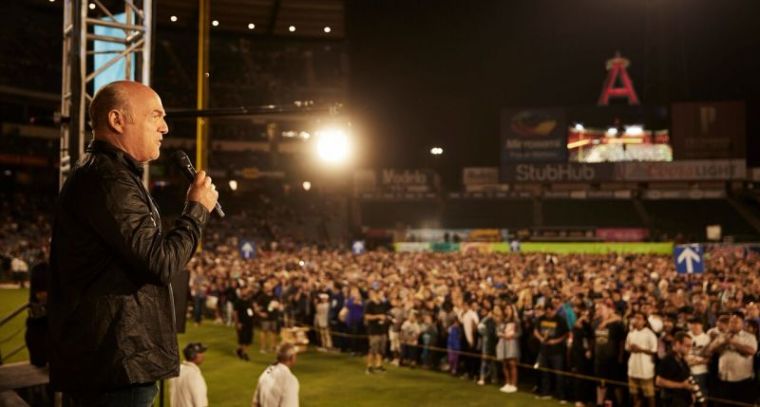 Over 10,000 people made "decisions for Christ" this past weekend while participating in California evangelist Greg Laurie's 28th annual SoCal Harvest revival crusade, which was held at Angel Stadium in Anaheim and livestreamed across the country.
Laurie, the senior pastor at Harvest Christian Fellowship in Riverside, hosted a number of popular Christian music artists who performed Friday, Saturday and Sunday nights before a combined crowd of over 92,000 attendees and nearly 47,000 people watching online.
Following performances from stars like Lecrae, Jordin Sparks and Jeremy Camp, Laurie took the stage each night to share the message of the Gospel of Jesus Christ and call audience members down to the field to proclaim their interest in learning more about the Gospel and being connected with a local church.
New believers and even believers who have fallen out of their faiths who chose to come down on the field were met by one of thousands of volunteers who prayed with them, listened to their stories and wrote down their information on cards that allowed other Harvest volunteers to connect them with local churches and pastors.
According to Harvest, over 10,071 decision cards were received — 9,008 came from those in attendance and 1,063 cards were from online viewers.
"We count every card because everyone matters," Pastor Richard Garcia, Harvest's director of follow-up, told The Christian Post on Thursday. "We see, on average, 10 percent of the attendance every year here at Harvest. We had 92,000 people attend over the weekend. That is pretty typical and it was pretty awesome this weekend. We go into it with the expectation that we will mostly see 10 people make a profession of faith."
Garcia added that about 80 to 85 percent of people whose names are on the decision cards were brought to the event by a friend. At least 80 local Southern California churches signed up to be Harvest "follow-up churches."
At the end of each night, the cards were sorted by volunteers who divided them by region or county. When a person indicated that they already attend a church or indicated their friend's church, his or her card was usually given to that particular church to follow up.
Representatives from dozens of follow-up churches were present during the sorting process to receive cards earmarked for their churches.
"Once we drop the card in the church's box, that church will start addressing envelopes with a letter from their lead pastor welcoming them out to their church," Garcia said. "They will address it. They will put a stamp on it and they will put it in the mailbox that we have. We go to the mailbox each and every night of the event. We cram them in the mailboxes on Katella [Avenue]. If they can't fit anymore, we go to the next one because we want people to get connected super fast."
"That church will take home those cards and begin texting, emailing and calling these folks and inviting them out to their church. If they say 'I already go to a church,' they will say, 'Why don't you tell your pastor about the decision you made?'" Garcia added. "They are not trying to solicit their church. We just want these people to get plugged into a church."
Garcia explained that one of the most interesting elements of the evangelistic crusade is God's work in bringing together so many different churches for one cause.
"Every event that we do is a unity of the Church. These are a bunch of churches that typically wouldn't come together and this brings them together," he said. "In this moment, they are excited and happy to help these people get connected."
Garcia added that those who made decisions during Harvest were plugged into a "Start Friend" database, which connects them with one of over 475 believers across the country who can encourage them in their walk.
"These are A New Beginning radio listeners. Some signed on to say, 'Hey, I don't have an agenda, I just want to tell people about Jesus via email,'" Garcia stated. "They will start an online dialogue with them, emailing back and forth and just answering questions and letting them know that they have resources for whatever their needs are — whether they are coming out of different religions or whatever it is. They have the resources to help them get connected."
People who made decisions for Christ at SoCal Harvest also received a Laurie "Start Bible" and an email from Harvest welcoming them to the "family of God." They will also have the option to receive Laurie's daily email devotional. The "Start Bible" includes notes from Laurie on things like overcoming trials and temptations and also has Laurie's "Keys to Spiritual Success."
"The Start Bible is really kind of helping these people understand what it means to be praying and talking to God," Garcia explained.
In June, Laurie hosted Harvest America 2017 at the University of Phoenix Stadium in Glendale Arizona, where over 3,000 people made decisions for Christ.