Southern Baptist Leader Paige Patterson's Fate to Be Decided at Trustee Meeting; Open Letter Calls for Resignation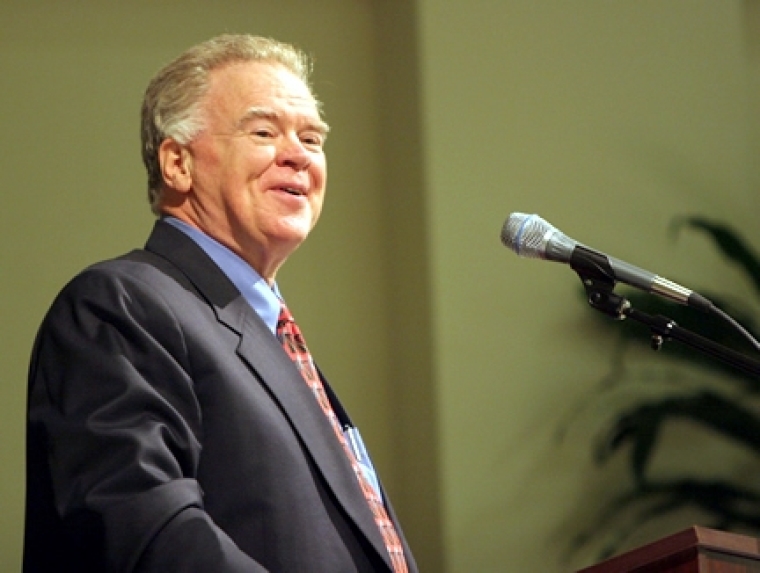 Southwestern Baptist Theological Seminary's Board of Trustees will meet to decide the fate of President Paige Patterson amid controversial remarks about women and spouse abuse. Female Southern Baptists have signed a letter calling for his resignation. 
SWBTS Chairman Kevin Uekert announced that the board will hold a special meeting on May 22, coming "in light of recent events."
"The Southern Baptist Convention has entrusted to the Southwestern Baptist Theological Seminary Board of Trustees a responsibility to oversee the mission and direction of Southwestern Baptist Theological Seminary. As chairman of this Board, I know I speak for each of our trustees in saying that we carry out this responsibility with great seriousness," Uekert stated.
"Since April 28, 2018, I, and the Executive Committee of the board of trustees, have been in conversation with our president. In light of recent events, Dr. Patterson has requested that I convene our full trustee board to meet in official session," he added, noting that the May 22 meeting will take place at the SWBTS location in Fort Worth, Texas.
The trustees will also hear an appeal from Nathan Montgomery, a SWTBS Ph.D. student who was fired for posting an article on social media calling for Paige to resign.
Meanwhile, a letter came in response to the controversial comments resurfacing from 2000 where Patterson appeared to discourage divorce even in the face of abuse, and a clip from 2014 that has emerged of him making "inappropriate" comments about a 16-year-old girl's body.
The open letter to the SWBTS Board of Trustees was published Sunday online. As of Monday morning, the letter had close to 1,700 signers. The header to the letter invites Southern Baptist women to sign it, but the website is open for anyone to sign, and men and non-Southern Baptists appear among the signers. 
It urges the board to "take a strong stand against unbiblical teaching regarding womanhood, sexuality, and domestic violence."
"We are shocked by the video that has surfaced showing Dr. Paige Patterson objectify a teenage girl and then suggest this as behavior that is biblical," the letter states.
The objections refer to a clip posted online on Sunday of the January 2014 AWAKEN Conference in Las Vegas, where Patterson refers to a past conversation he had about the body of a 16-year-old girl described as "built," "nice," and "fine," as part of a sermon on Eve.
"We are further grieved by the dangerous and unwise counsel given by Dr. Patterson to women in abusive situations," the letter continues.
"His recent remarks of clarification do not repudiate his unwise counsel in the past; nor has he offered explanation or repentance for inappropriate comments regarding a teenage girl, the unbiblical teaching he offered on the biblical meaning of womanhood in that objectification, and the inappropriate nature of his own observations of her body."
"The world is watching us all, brothers. They wonder how we could possibly be part of a denomination that counts Dr. Patterson as a leader," the statement adds.
"The Southern Baptist Convention cannot allow the biblical view of leadership to be misused in such a way that a leader with an unbiblical view of authority, womanhood, and sexuality be allowed to continue in leadership."
Patterson, who is also the former president of the Southern Baptist Convention, found himself surrounded by controversy last week after an audio clip of a 2000 interview emerged where he appeared to discourage women from getting a divorce from their abusive husbands.
He offered one example where he counseled a woman to pray for her husband by his bedside and then one morning showed up to church with two black eyes.
"She was angry at me," Patterson said at the time. "And she said, 'I hope you're happy.' And I said, 'Yes ma'am, I am.' And I said, 'I'm sorry about that, but I'm very happy.'"
Patterson later explained that the husband showed up to church, repented of his actions, and is now "a great husband today."
After the comments sparked ire from many evangelicals and conservative Christians, with megachurch pastors like Rick Warren to popular evangelists like Beth Moore insisting that abuse is never OK, Patterson clarified that he has "never counseled or condoned abuse of any kind."
"I will never be a party to any position other than that of the defense of any weaker party when subjected to the threat of a stronger party. This certainly includes women and children," he added in a statement.
Angie Brock, a real estate agent from Oklahoma, said on Twitter she was the one Patterson was speaking about and that the Southern Baptist leader helped her when she was abused by calling authorities. She suggested his comments may not have been interpreted by the media correctly. The Christian Post reached out to Brock for clarification but has not heard back at press time. 
Brock explained that Patterson never suggested that she has to "stick around and get smacked."
"What he did was bring the authorities, remove my violent husband and encourage me in the Word. Not recommending divorce does not mean approval of abuse," she revealed.
Brock added: "I am a woman that sought refuge from a physically abusive husband. Dr Patterson responded IMMEDIATELY to the point of personally driving my husband away to provide relief for me. I can assure you that he has no patience for a man that will abuse a woman ... ever."
Still, those who have signed the open letter to the SWBTS board insisted that the time has come for change.
"This is the most heartbreaking letter I've ever signed. I've been Baptist most of my life, Southern Baptist for almost two decades," wrote on Twitter Karen Swallow Prior, professor of English at Liberty University. 
"I made this appeal privately but was not heard. The church cannot be led by men who speak lasciviously of teen girls," she added.