Beth Moore Slams Christians Who 'Demonize' Divorce as Worst Sin: 'We Do Not Submit to Abuse'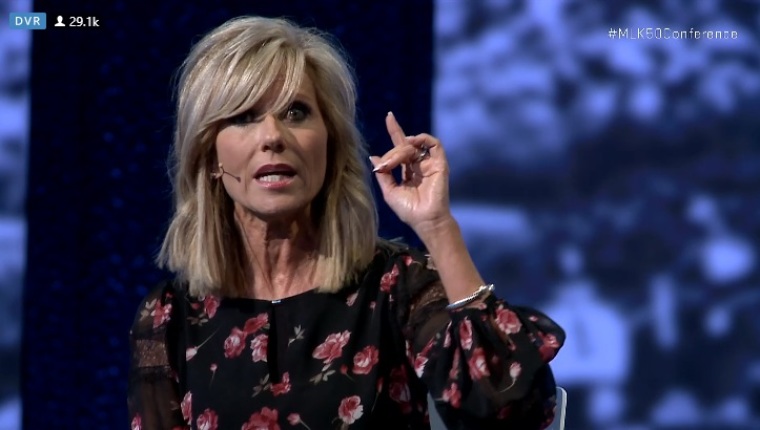 Evangelist Beth Moore, founder of Living Proof Ministries, has slammed Christian church culture that she says "demonizes" divorce as the worst sin even as wives are being abused by their husbands.
Moore's comments come in the midst of Southwestern Baptist Theological Seminary President Paige Patterson seeking to clarify past comments of his that many say appeared to support women staying with abusive husbands rather than separating.
Moore, who has been speaking out on several issues related to abuse of women in the Church, wrote several posted on Twitter over the weekend criticizing the way some churches have handled questions of spousal abuse.
"I'm pro marriage. Nearly 40 years of ups and downs to back that up. But when we as a church culture demonize divorce as the worst possible outcome — the sin of all sins — we truly have no clue on this ever loving earth what some people are enduring. We do not submit to abuse. NO," the 60-year-old evangelist declared on Saturday.
In a later tweet she said that she's "dealt with sexism in my church culture for 60 years."
"Had to accept certain degrees of it to serve & serve I would because I was called. Then 18 months ago the meticulously groomed dog that is sexism rolled over & we who'd bear to look saw its gross underbelly, full of ticks," she said, referring to the various movements in society that have been exposing abuse.
In other posts she talked more about abusers, describing how they are "powerful manipulators."
"I've seen the come-to-church-&-cry thing 1000X. Thank God sometimes it's real. Other times it's to get people to talk her into staying with him. A man who runs his rear end to prof help, never strong arms or verbally assaults her again repented," she warned.
In a further tweet she continued: "Because much of what was exposed at that time was primarily among leaders of my own generation, I started following a number of conservative younger pastors primarily to observe their attitudes toward 1/2 their congregations: women. Some grossed me out. But some gave me hope..."
Moore's comments come as Patterson, who is also the former president of the Southern Baptist Convention, stated on the seminary's website on Sunday that he has "never counseled or condoned abuse of any kind."
"I will never be a party to any position other than that of the defense of any weaker party when subjected to the threat of a stronger party. This certainly includes women and children," Patterson added.
"Any physical or sexual abuse of anyone should be reported immediately to the appropriate authorities, as I have always done."
The clarification came as a response to a 2000 interview resurfacing, where he was asked about whether wives should submit to their husbands, even when they are abusive.
"It depends on the level of abuse to some degree. I have never in my ministry counseled that anybody seek a divorce, and I do think that's always wrong counsel," Patterson said at the time.
"There have been, however, an occasion or two when the level of the abuse was serious enough, dangerous enough, immoral enough that I have counseled temporary separation and the seeking of help. I would urge you to understand that that should happen only in the most serious of cases."
He went on to share in the audio interview of an instance where he counseled a woman to stay by her husband, and even though it led to her showing up to church one morning with two black eyes, her husband repented of his behavior and is now "a great husband today."
Other notable evangelicals, such as Bruce Ashford, professor and Southeastern Seminary Provost, also spoke out on the controversy.
"As the Provost of a SBC seminary and pastor at a SBC church, let me be clear: a physically abused woman should separate from her husband and have him put in jail," Ashford tweeted on Saturday.
Pastor J.D. Greear of Summit Church in Durham, North Carolina, who is to be nominated for SBC president in June, responded to Ashford's tweet by stating, "Yes."