Beth Moore: Christian Church Is Dealing With Culture That Is 'Under Sexual Assault by the Evil One'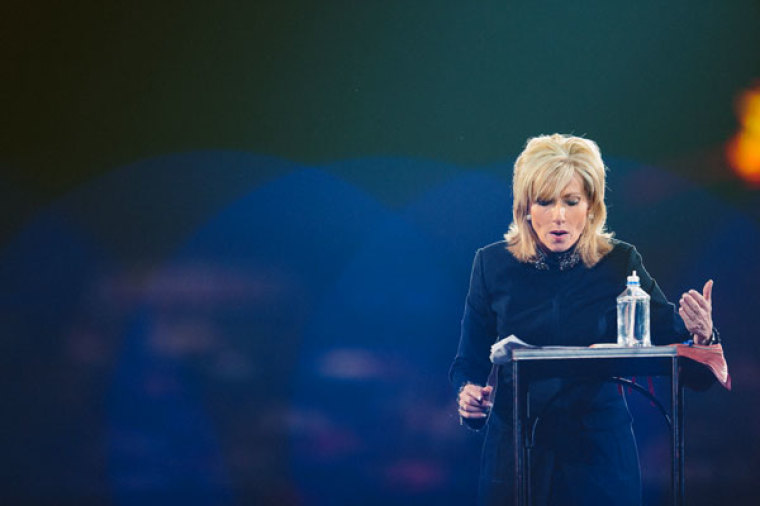 Christian speaker and author Beth Moore has warned that the Christian church has to find how to deal with a culture that is "under sexual assault by the evil one," in the face of mass revelations of sexual assault and harassment from every corner of society.
"We, the church, are dealing with the fall-out of a culture that is, in effect, under sexual assault by the evil one. Never forget: God's plan for the repentant is ALWAYS restoration. Even the most spiritual can be had. (Gal.6:1) Fallenness does not always indicate fraudulence," Moore said Monday on Twitter.
In a follow-up post she added: "Fallenness always indicates foolishness. And, make no mistake. We can all be fools. These are days of satanic seduction. We must humbly submit ourselves to ongoing accountability, sanctification and fortification. A Christlike seriousness regarding repentance & restoration BOTH."
The evangelist and founder of Living Proof Ministries was one of a number of Christian leaders, along with hosts of other women, to share their stories of abuse back in October under the #MeToo hashtag online.
Hundreds upon hundreds of other women have also talked about rape, sexual abuse and harassment that they suffered inside church or at the hands of Christian men in leadership, this time under the #churchtoo hashtag in November.
Major Hollywood producers, actors, and comedians, big name television hosts, and numerous politicians have all been caught in an ever-expanding net, revealing a variety of sexual abuse and harassment allegations made by victims.
Moore said in another tweet last week: "Daily unveiling of depravity. Mighty trees cut to stumps. Repugnant, nauseating sins. Suddenly, flashbacks of failure, a present illicit desire, a relapse, secret. Our own grotesqueness in the mirror. We too. Cut down. Despair. 'None is righteous!' Then 1 more unveiling: a cross."
She further warned that there is a "sick line of shared reasoning on perpetual repeat in the minds of racists, bigots, white supremacists, misogynists & sexists: If we give them an inch, they'll take a mile."
"Here's the shocker: It's not your inch. Claiming ownership over God's property is perilous hubris," Moore wrote.
Last month, the author said that Jesus' name should not be dragged down amid all the controversy, and insisted that Christ is no misogynist.
"If you want to know how Jesus felt about women & treated women, read the Gospels. Anything & anyone that does not reflect what you see in Jesus in black and white on those pages may wear a Christian label but never confuse that with Christlike," Moore stated.
"Jesus is no misogynist. Read & see."
Other Christian leaders, including Kevin DeYoung, senior pastor of Christ Covenant Church in Matthews, North Carolina, have also said that Christians should never make excuses for "disgusting advances" on women.
"Whether we blame the pornography that objectifies women, the collapse of chivalry that sought to protect women, the sexual revolution that untethered erotic intimacy from marital fidelity, or simply the fallen human heart, the church of Jesus Christ must not be afraid to call sin sin and denounce iniquity for what it is," said DeYoung, who is also chairman of the board of The Gospel Coalition.