Steve King: Western Civilization Can't Survive on 'Someone Else's Babies'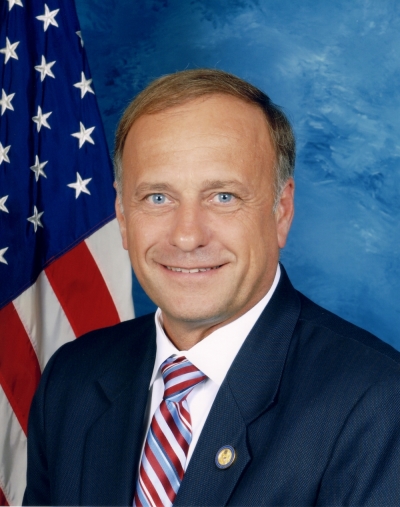 Iowa Congressman Steve King is under fire this week from conservatives and liberals alike over his Sunday comments on Twitter stating Western civilization cannot be restored "with someone else's babies."
In praise of Dutch parliament member Geert Wilders, who is one of the leading advocates for halting Muslim immigration to Europe and a serious contender in Wednesday's general elections in the Netherlands, King said that he "understands that culture and demographics are our destiny."
"We can't restore our civilization with somebody else's babies," King said.
Writing at National Review Tuesday, Jonathan S. Tobin said King's statement undermined American exceptionalism and the integrity of conservatives. While America may have begun as a nation of white Protestants, the "national identity the Founders forged was not based, at least in principle, on race, ethnicity, or religion."
King might "claim he was talking about culture, but the mention of 'babies' is a not-so-subtle attempt to say that the survival of Western values requires white children to outnumber those who are not white," he continued.
Similarly, negative reactions to King's comments ricocheted across the Internet from Republican colleagues and Democrats.
"What exactly do you mean? Do I qualify as 'somebody else's baby?' asked Congressman Carlos Curbelo, a Republican from Florida who is the son Cuban immigrants, attaching the hashtag #concernedGOPcolleague. Republican commentator Ana Navarro, who is originally from Nicaragua, said King was "an embarrassment to GOP and the human race." House Speaker Paul Ryan stated that he hopes King "misspoke."
.@SteveKingIA What exactly do you mean? Do I qualify as "somebody else's baby?" #concernedGOPcolleague

— Carlos Curbelo (@carloslcurbelo) March 13, 2017
Likewise, Democrats were offended. Democratic Congressman and civil rights icon John Lewis posted on Twitter that King's comments were "bigoted" and "racist." Former Vermont governor and once Democratic presidential candidate Howard Dean said no one takes King seriously and that he is a "total ignoramus."
This is bigoted & racist. It suggests there is one tradition & one appearance that all humanity should conform to. https://t.co/dC6dIy3rXn

— John Lewis (@repjohnlewis) March 13, 2017
White supremacists like David Duke, however, were delighted. Duke tweeted Sunday: "GOD BLESS STEVE KING!!!"
But Ben Shapiro, editor of the Daily Wire and an Orthodox Jew who himself has been harassed by white nationalists like Duke and other alt-right figures, is annoyed that the media is quick to assign the "racist" label to King without listening to the full context of his thoughts. In a CNN interview with Chris Cuomo in response to his controversial tweet, King insisted that he was not talking about race but Western civilization itself and its values, which has nothing to do with skin color. King also voiced support for mixed-race marriages, Shapiro noted, something white supremacists abhor.
"When you read the headlines today and see people immediately jumping to 'Steve King is a racist' or 'what Steve King said here' is racist, just do yourself a favor and do your own research on this stuff," Shapiro advised on Monday's episode of his Daily Wire podcast.
King further defended his remarks Monday on Fox News' Tucker Carlson Tonight, saying that all across the West, with the exception of Israel, there is a "vacuum" that has been created because death rates are outpacing birthrates. Unless something is done to increase Western birthrates, that gap "will be filled by people who don't believe in our values here in Western civilization."
This is not the first time that King has uttered comments about non-white groups many regarded as prejudiced.
As The Christian Post reported in August 2013, at anti-immigration rally in Richmond, Virginia, King opined that Hispanic immigrants hail from a "violent civilization." Importing them into the U.S., a "less-violent civilization," would yield more violence, he said.
"It's like pouring hot water into cold water, does it raise the temperature or not?" King said.