SWBTS Interim Head Vows to Protect Abuse Victims; Staff Taking Course on Sexual Harassment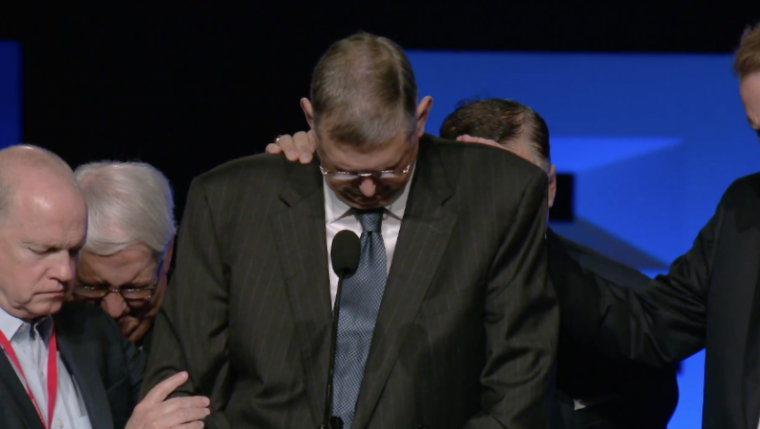 Following the termination of Southwestern Baptist Theological Seminary President Paige Patterson, the interim president stated emphatically on Wednesday that the school denounces all forms of abuse.
"My intention, my priority is to create a safe environment and a campus culture that protects and cares for the victims of abuse," Jeffrey Bingham said to applause at the annual Southern Baptist meeting in Dallas, Texas.
"At Southwestern, we denounce all forms of abuse, all behavior that enables abuse, all behavior that fails to protect the abused, and all behavior that fails to protect those who are vulnerable to abuse. We pray for the abused and we agonize for them."
Bingham was installed as interim president in late May after Patterson agreed to step down from his position amid several controversies, including comments he made years ago where he said he always advised against divorce even in abusive situations unless the "level of abuse was serious enough."
Two women who were raped on campus also came out with allegations against Patterson, claiming that he mishandled their cases. One rape victim, Megan Lively, said Patterson discouraged her from reporting it to the police. Another rape victim said while Patterson did report her 2015 case to authorities, he told her it was a "good thing" she had been raped.
SWBTS initially gave Patterson the title of president emeritus with compensation but following new revelations regarding the cases of rape, the seminary's Board of Trustees unanimously decided to immediately terminate him after seeing an email in which Patterson said he wanted to speak to the 2015 rape victim alone in order to "break her down." 
Patterson's attorney, Shelby Sharpe, maintained that there has been widespread "misrepresentation and misinformation" regarding Patterson.
Among them, Sharpe said Patterson was unaware of a rape that occurred in 2003 while he was president at Southeastern Seminary and that it was not reported to him.
All staff and faculty at Southwestern have been instructed to complete a course in sexual harassment by the end of July, Bingham said Wednesday. The Fort Worth seminary has also been meeting with third party agencies and ministries to help the school "move forward in the ways in which we need to move forward, in recognizing conditions which contribute to abuse, in helping us to grow in our manner of how we respond to allegations of abuse, and how we shall care for the abused," he added.
During Bingham's address, he was asked by a Southern Baptist messenger (representative) how he feels about working with the current Board of Trustees executive committee. Many Southern Baptists have expressed grievances toward the board for how they cut all ties to Patterson, who has been a key leader in the SBC.
Bingham replied by calling those on the executive committee "godly men and women."
"I have seen the agony on their faces. I have seen the tears stream from their eyes as they have had to make decisions which caused them deep inner anxiety and agony," he said. "I have heard their quotations of Scripture. I have been present when they have prayed prayers that I promise you sound like they came from an angel. This is a godly group of men and women and I cannot think of 12 people on the face of the earth now that I would rather be reporting to, that I would rather be submissive to and that frankly I have more confidence in."
Several motions have been made at the SBC meeting regarding the SWBTS trustees, including ones that call for either the removal or resignation of the trustees, another that asks the trustees to reconsider their decision regarding Patterson, and one that calls for strengthening the training of trustees at all SBC entities.
Southern Baptists will debate the motion to remove SWBTS trustees Wednesday afternoon.