Christian TV Channel Gives Hope to Refugee Children Fleeing War-Torn Syria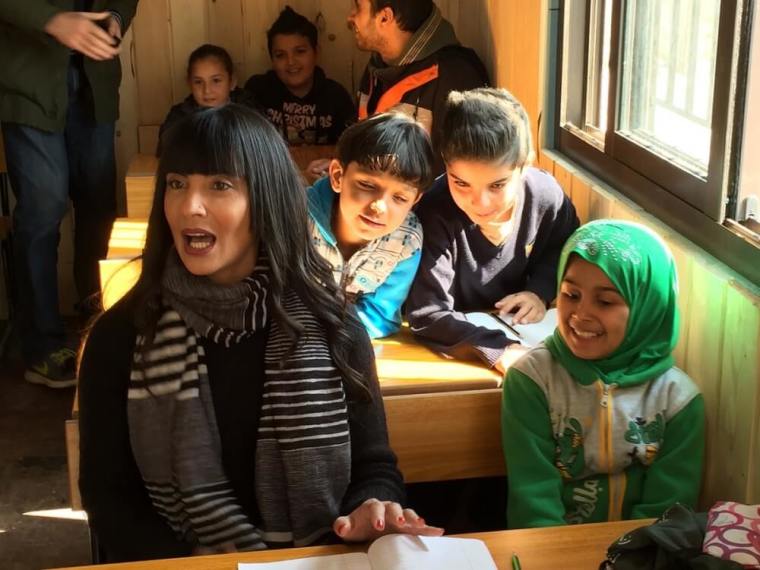 As more and more people fleeing war in Syria continue to arrive at refugee camps in neighboring countries, one Christian satellite channel has been offering on air-education to children in core curriculum subjects, alongside messages of love, forgiveness, and reconciliation.
SAT-7, which was launched in 1995 as the first Arabic language Christian satellite television channel, has been broadcasting its "My School" program five days a week through SAT-7 Kids channel since 2015, which teaches young children core curriculum subjects, such as Arabic, English and Maths.
Rita El Mounayer, the chief channels and communications officer at SAT-7, told The Christian Post in a phone interview on Thursday that the program is doing more than just teaching school subjects, as it is providing children and families with hope for the future amid the humanitarian crisis.
"It's a catastrophe, and I don't think there's a solution coming in the next few years. There are millions of refugees that have lost hope with their governments, lost hope with their countries, with their neighbor, and even lost hope with God," El Mounayer, who grew up during Lebanon's civil war, told CP.
"The majority of the people in this conflict are innocent. These people are the poorest of the poor in their home countries. They come to Lebanon or Jordan or Turkey, and they cannot afford to rent an apartment, so they end up in camps," she added.
Official United Nations statistics state that as many as 4.7 million Syrians have been registered as refugees, with the vast majority of them stationed in neighboring countries, such as Lebanon, Jordan, Turkey, Egypt, and others.
El Mounayer noted that 1.5 million of those refugees are in Lebanon, and many of them are women and children, with men often being left behind back home to work or fight in the ongoing civil war.
She said that SAT-7 works with the local church and with people on the ground, and is very sensitive to the messages it broadcasts, since it deals with people who are facing real hardships and know what it means to live in the Middle East, and what it means to be a Christian.
People from all backgrounds and all walks of life have suffered in the five-year long Syrian civil war, with the humanitarian crisis growing in numbers also due to the rise of the Islamic State terror group in Iraq and Syria in the past two years.
The SAT-7 chief channels and communications officer explained that the Lebanese government has made attempts to bring education to the close to 450,000 refugee children younger than 12 who are living at the tents, but for various reasons at least half of them have no real chance at going to school.
The local church, including Catholics and Protestants, has also been helping and has opened community tents for basic education, but SAT-7 saw an opportunity in the fact that despite the often meager surroundings, almost every family tent has a small TV and a satellite dish that catches many channels.
El Mounayer revealed that the "My School" program started with the first grade last year, and took curriculum from Syria, which it adapted to the curriculum in Lebanon. In 2016, the program is moving on to the second grade, and plans are for the project to continue through the fifth grade.
She explained that the mission is to broadcast "a message of hope, peace, forgiveness, and reconciliation."
"We feel that this is the time that we can contribute to the wellbeing of a human being, no matter if he's Christian, or a Muslim. Our mission is to present God's love to many, to present Jesus' salvation to many, and at the same time to try and work for the wellbeing of a person," she continued.
"To try and give them a second chance in life. And this second chance, we believe, is in education. Because when you educate a child, they will grow up to think, to analyze, to have opportunity to go to university, find a job, get married, have kids, and have dignity in their own societies."
El Mounayer explained that the on-air school is focused on education in the core subjects, and that while for example sentences used to teach children to read and write in English or Arabic are often based on Christian or biblical values, the program does not come with a religious agenda.
She insisted that SAT-7 does not want to be seen "as if we are using the need, and the pain, agony and vulnerability of these people to promote Christianity. We are trying to give them a chance in education in these particular 90 minutes."
She added that there are advertisements that promote what comes next on SAT-7 programming, and if people stay tuned they can watch Bible stories, biblical songs, and other material of the kind, but reiterated that the daily 90 minutes of "My School" is "solid 90 minutes educational" material.
"I hope and pray that one day, we will have a whole educational channel. Even if we don't have passages of the Bible to read, we are going to put in a lot of our values as Christians, especially living in the region, and how we can live together, and reconcile," El Mounayer said of hopes for the future.
"Even though we are a Christian channel, we want the whole world [to know] that we care about our society, our culture, our people, and that we want to help."
More information about the "My School" program is available on the SAT-7 website.