Tim Tebow's 'Shaken' Ranks as Top-Selling Sports Book in the Nation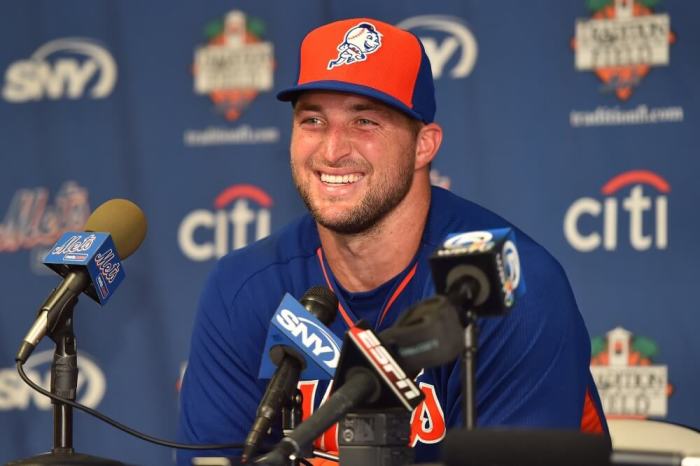 Tim Tebow seems to have hit a home run with his latest book which has landed on multiple best-sellers lists.
The Heisman Trophy winning NFL quarterback-turned-professional baseball hopeful is proving that he is more than just an athlete with his second book, Shaken: Discovering Your True Identity in the Midst of Life's Storms. Now, Tebow's book is a best-seller on The New York Times, USA Today, The Wall Street Journal and Publisher's Weekly best-sellers lists.
The New York Times revealed that Tebow's book was the best-selling sports book last month. On USA Today's list, Tebow's book landed at No. 17 among 25 books from varied genres.
The Publisher's Weekly best-sellers list revealed that Tebow's book was the sixth most sold on the religion nonfiction list.
"As a football analyst for ESPN's SEC Nation and having just signed with the New York Mets this fall, Tebow's high profile certainly helped the book out of the gate. Further, WaterBrook's marketing plan included hiring a launch team which used social media to share videos of Tebow, teasers of book chapters, and reviews," Publisher's Weekly surmised.
"Sales were also driven by an aggressive pre-order campaign and promotions through WaterBrook/Multnomah and Penguin Random House-owned media, email lists, and social media. The publisher also partnered with the care package company FanJoy to sell boxes including a hardcover copy of Shaken, a T-shirt, leather wrap bracelet, and notebook. Lastly, author Clayton Jennings created a spoken word video about Shaken that has more than 600,000 views."
Last week, The Washington Post highlighted Publisher's Weekly's best-seller list where Tebow ranked as having the No. 4 nonfiction book. In The Wall Street Journal, Tebow's best-selling book also ranked fourth in nonfiction books.
Tebow's book sheds light on how he's been able to overcome career frustrations after struggling to find stability in the NFL where he dreamed to play quarterback.
"First, he was a beloved college football champion, media sensation, and best-selling author drafted in the first round of the 2010 draft. Then he had a miracle playoff run with the Denver Broncos before being traded to the New York Jets," a description of the book on the Penguin Random House website states. "After one season he was cut by New York, next signed by the New England Patriots, then let go after training camp. Tim Tebow has achieved big victories and plunged the depths of failure, all while holding firm to his faith."
The description goes on to reveal how Tebow plans to get personal about some of the most challenging moments in his life.
"In Shaken he explains why neither the highs nor the lows of his life can define him — and he reveals how you, too, can find an unshakable identity and purpose. In revealing passages, Tebow pulls back the curtain on his life, sharing the vulnerable moments of his career that have shaken him to his core — while also teaching the biblical principles that will enable you to keep the faith, no matter what comes your way."