Trump Kills DACA on Easter Morning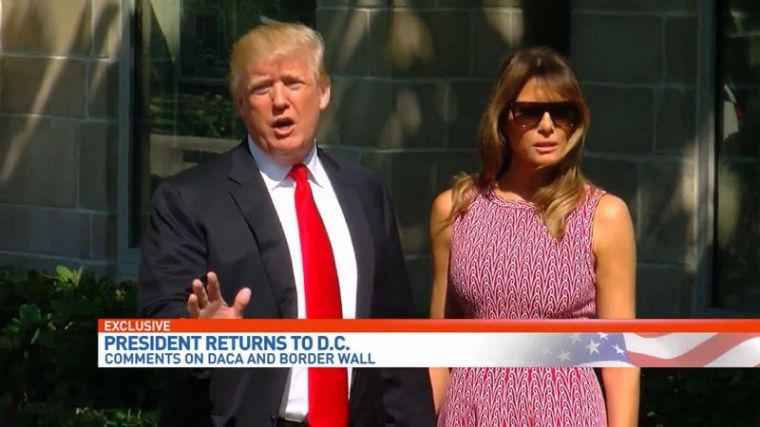 President Donald Trump said on Easter that there will be no deal for the Deferred Action for Childhood Arrivals program, which seeks to offer a solution to hundreds of thousands of immigrants facing deportation. He noted that countries like Mexico are "laughing" at the United States.
Critics, including Ohio Governor John Kasich, blasted Trump in response for taking away hopes from "innocent children," and for failing to understand how DACA works.
Just hours after Trump tweeted "Happy Easter" on Sunday, he said:
"Border Patrol Agents are not allowed to properly do their job at the Border because of ridiculous liberal (Democrat) laws like Catch & Release. Getting more dangerous. 'Caravans' coming. Republicans must go to Nuclear Option to pass tough laws NOW. NO MORE DACA DEAL!"
Trump's mention of "catch and release" refers to policies by the U.S. Immigration and Customs Enforcement and the U.S. Customs and Border Protection, which allow immigrants to be released from custody while awaiting trial at court.
"Mexico is doing very little, if not NOTHING, at stopping people from flowing into Mexico through their Southern Border, and then into the U.S. They laugh at our dumb immigration laws. They must stop the big drug and people flows, or I will stop their cash cow, NAFTA. NEED WALL," Trump continued.
NAFTA refers to the North American Free Trade Agreement between the U.S., Canada, and Mexico, which Trump has said is unfavorable to America.
The president also mentioned his long-planned massive border wall along the U.S.-Mexico border, which is yet to receive the funding it needs in order for work to commence.
Trump concluded by adding: "These big flows of people are all trying to take advantage of DACA. They want in on the act!"
Trump, who attended Easter Sunday service with his wife, Melania, at Bethesda-By-The-Sea in West Palm Beach, Florida, took time to clarify his comments on DACA before going into church:
"Mexico has got to help us at the border. If they're not going to help us at the border, it's a very sad thing between two counties. Mexico has got to help us at the border and a lot people are coming in because they want to take advantage of DACA and we're going to have to really see," Trump said, according to CBS12.
Several political commentators, however, including Daniel Dale, Washington correspondent for the Toronto Star, suggested that Trump does not understand how the deal works.
"This makes no sense. To be eligible for DACA, people had to have been living in the U.S. since 2007. Nobody who arrives now would be covered by the program even if it wasn't being terminated. Nor would they be covered by any of the citizenship deals on the table in Congress," Dale tweeted.
Kasich, who ran but lost against Trump for the Republican presidential candidacy in 2016, commented:
"A true leader preserves & offers hope, doesn't take hope from innocent children who call America home. Remember, today is Easter Sunday."
Others, including Republican U.S. Senator Jeff Flake of Arizona, insisted that DACA can still get bipartisan support.
"There are plenty of lawmakers on both sides of the aisle who stand ready to work with the administration on legislation to protect DACA kids who call America home. Let's do it," Flake tweeted.
DACA has been the subject of much evangelical attention. The Evangelical Immigration Table urged Christians to pray for those who could be hurt by the expiration of DACA.
Russell Moore, president of the Southern Baptist Convention's Ethics & Religious Liberty Commission, and member of EIT, said in March that there is "absolutely zero excuse for failing to provide a solution for Dreamers."
"Every week that Congress does not act, men and women created in the image of God will lose legal protections and work authorization. Families will face the risk of being torn apart," Moore added at the time.
"Let's pray for and petition our elected leaders to find a way forward from this totally avoidable crisis and for our churches as they care for our neighbors in this new stage of uncertainty."