UFC Fighter Vitor Belfort Beats Up Distracted Churchgoers in New Commercial for Megachurch (VIDEO)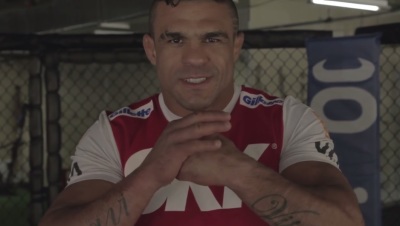 Ultimate Fighting Championship heavyweight Vitor Belfort, nicknamed "The Phenom," has taken on a new role as "The Values Enforcer" in a comedic commercial recently released by Steven's Furtick's Elevation Church in North Carolina.
The commercial, narrated by the megachurch's creative pastor, c, shows the church's new solution to dealing with apathetic churchgoers: kidnap them from their Sunday service and dump them in a UFC ring with Belfort, who physically punishes them into being attentive and focused at church.
The commercial begins with Hubatka explaining that his team has decided to take a creative approach to communicating the Gospel each week, but they have run into small problems in the process, mainly churchgoers who remain unfocused during the Sunday sermons.
As a solution, Hubatka tells the camera that the creative team at Elevation Church is "rolling out a new program, something that's going to help us with a distraction-free environment. We've been beta-testing it for just a few months now, and I think you're really going to like it."
The commercial then proceeds to show several churchgoers attending a sermon at Elevation Church's Blakeney location in North Carolina and exhibiting classic apathetic tendencies, such as dosing off, playing on their cell phones, checking their watches, or sneaking out of the service early. One by one, each unruly churchgoer is plucked from their seat by a burly looking bodyguard and blindfolded before being thrown into an unmarked white van.
After the van speeds away from the church's curb, the three captured men are shown standing in a caged UFC ring. The startled men remove their blindfolds to find UFC fighter Vitor Belfort staring back at them. "Welcome to Vitor's house, I crush men's bones," the UFC fighter dauntingly tells the men while slamming his fist into his hand. Then, Vitor proceeds to physically punish each man so he no longer can be distracted in church: the secret cell phone checker has his hands twisted, the sleeper is put in a choke hold, and the churchgoer who tried to leave early is put in a headlock.
"No phones at church, no leave early church," Vitor tells the men, putting one in a sleeper hold while saying "you like the sleep at church, no? Okay, you're about to sleep now."
"Some people would say we're being a little overly aggressive, we would just say we're being creative," Hubatka tells the camera. "You see, we had a problem so we brought a specialist in to help us get it right, somebody who has got a lot of experience dealing with situations like this, somebody who was like an enforcer, like a 'Values Enforcer,' and we've seen incredible results: prolonged attention span, a decrease in cell phone dependency, a heightened sense of bladder control. I'd say it's working, I'd say our specialist is a 'Phenom.'"
Some have described the commercial as a play-off of the 2003 Reebok Super Bowl XXXVII commercial featuring "Office Linebacker Terry Tate," hired by an office's CEO to enforce office laws, such as refilling the coffee pot when it's empty. Those who do not obey the office laws are punished by Terry, who usually performs some classic football move, such as a tackle, on the unruly employees.
Belfort, a Christian, has previously collaborated with Elevation Church to spread the Gospel. In January, he was interviewed by friend and pastor Steven Furtick in the church's series "New Rules of Resolution."