Vatican Confirms ISIS' Threat on Pope Francis' Life; Pontiff Condemns 'Intolerable Brutality' of Jihadists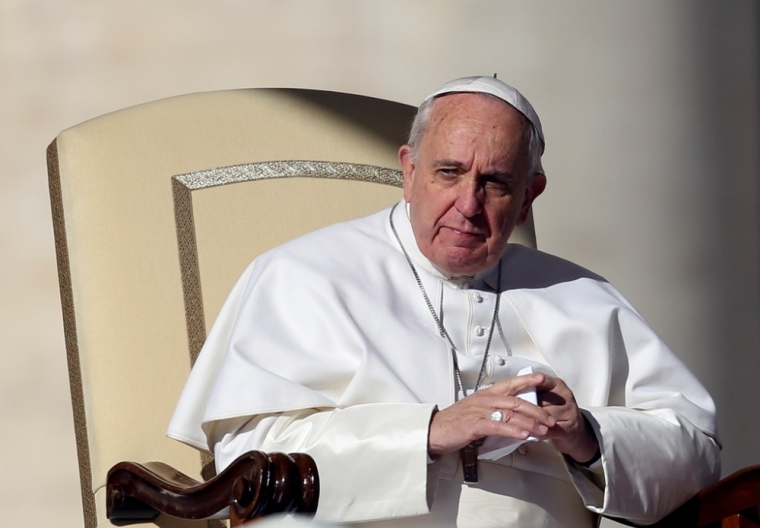 The inspector general of the Vatican's police force has confirmed that terror group ISIS has threatened Pope Francis, but said he's not aware of any specific plans to carry out an attack. Francis has, meanwhile, condemned the "intolerable brutality" of the militants.
"The threat exists. This is what has emerged from my conversations with Italian and foreign colleagues," said Domenico Giani, inspector general of the Corpo della Gendarmeria, Vatican City's state police force.
"At the moment, I can say that we know of no plan for an attack against the Vatican or the Holy Father."
ISIS, which has captured a number of cities across Iraq and Syria, has also spoken out about its plans to eventually attack Europe. Last week it released a video that talked about conquering Rome, installing Shariah law and throwing gay people off the top of the "leaning power of pizza."
ISIS militants beheaded 21 Coptic Christians in a video in February, while last week they kidnapped as many as 220 Assyrian Christians following a raid on villages in Syria. The militants reportedly released 19 of the Assyrian hostages on Monday, the Syrian Observatory for Human Rights monitoring group said.
Francis has spoken out against ISIS' attacks on Christians in Iraq and Syria on a number of occasions. On Sunday, he told the Vatican audience that the victims of terror attacks in that region are not forgotten. He also "prayed that the intolerable brutality of which they are victims would soon be at an end," Vatican Radio reported.
It added that Francis also asked everyone "according to their ability, to work to alleviate the suffering of those who are afflicted, often only because of the faith they profess."
Giani, who was speaking before Polizia Moderna magazine, said that communications between the Vatican and a number of Muslim countries remain on good terms. He said that this collaboration has provided "valuable information" on ISIS.
A number of these Muslim nations have also sent "declarations of esteem and admiration for the Holy Father," according to Giani. "I can say that today, Islam regards and respects the Holy Father as the world's most influential moral authority," he added.
The inspector general suggested that Francis would not be changing his style of pontificate regardless of the threats made against him.
"Even as pope, he's still a priest who doesn't want to lose the contact with his flock. It's us, those in charge of his safety, are the ones that have to help him, not the other way around," Giani added.