Women Do Not Have to Submit to an Abusive Man, Says Pastor Tony Evans; Tells Victims in Church 'We Will Confront Him'
Oak Cliff Bible Fellowship Pastor Speaks Out Amid Video Revelation of Former NFL Player Ray Rice Slugging His Wife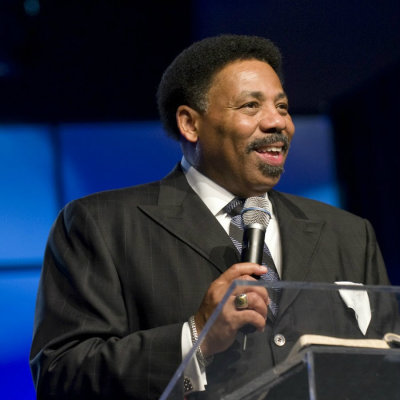 "Submission never means abuse," Pastor Tony Evans told his Dallas, Texas, congregation on Sunday, making it clear what he believes the Christian position is on domestic violence.
"We've been hearing about one kind of struggle here lately — domestic abuse," said Evans, referring to recent news headlines concerning Ray Rice, who was suspended indefinitely by the NFL after being caught on tape punching his wife.
"Ladies, you do not have to submit yourself to any man abusing you. You do not submit yourself," he added. "No man has the right to put his hands on him. You shouldn't be putting your hands on him either, but no man has the right to put his hands on you in a violent fashion."
Pastor Evans went on to inform women in his Oak Cliff Bible Fellowship congregation to take note of how their boyfriends and potential husbands currently treat them.
"If you're not married and your boyfriend is putting his hands on you, you know he ain't the one, because you know that will continue," warned the megachurch pastor.
He also addressed married women who might be victims of domestic abuse: "If you are married and if your husband is putting his hands on you that way, we want to know about it because we will confront him. He has no right to put his hands on you. His job is to be your protector and provider, not your abuser. You are not his kid."
"Submission never means abuse," Evans added.
As for the men at Oak Cliff Bible Fellowship, the pastor told them, "You walk away, you run away, you catch a plane and fly away. What you don't do, is put your hands on a woman in an inappropriate or violent way."
Evans' remarks comes amid ongoing discussion concerning a CCTV footage of Rice and his then-fiancee Janay Rice having an altercation inside an elevator at an Atlantic City casino. Rice, since dropped by the Baltimore Ravens, is seen in the video slugging his wife across her face with his fist. Mrs. Rice falls backward and knocks her head against a railing, and briefly goes unconscious. Rice is then seen dragging her limp body from the elevator. Read more about the case here: Ben Carson Says Ray Rice and Wife Need Help, Not 'Demonizing;' Some Critics Disagree.
Pastor Evans, who along with his wife Lois Evans, have four adult children, also leads the Urban Alternative ministry. His Sunday remarks on domestic abuse are rare for U.S. pastors, according to a July LifeWay Research report on a survey that found that very few church leaders speak on the issue with their congregations.
Forty-two percent of pastors "rarely" or "never" speak about domestic violence, and less than 25 percent of them speak to their church about such abuse once a year, according to LifeWay Research's telephone survey of 1,000 senior pastors of Protestant churches. Read more about the survey's findings here: Pastors See Domestic Violence as Pro-Life Issue but Rarely Address it, New Study Says.
Watch Pastor Evans' remarks to his church on domestic violence in the video below: