YouVersion Bible App Allows For Interactive Study With New Virtual Reality Function
YouVersion Bible App Allows For Interactive Study With New Virtual Reality Function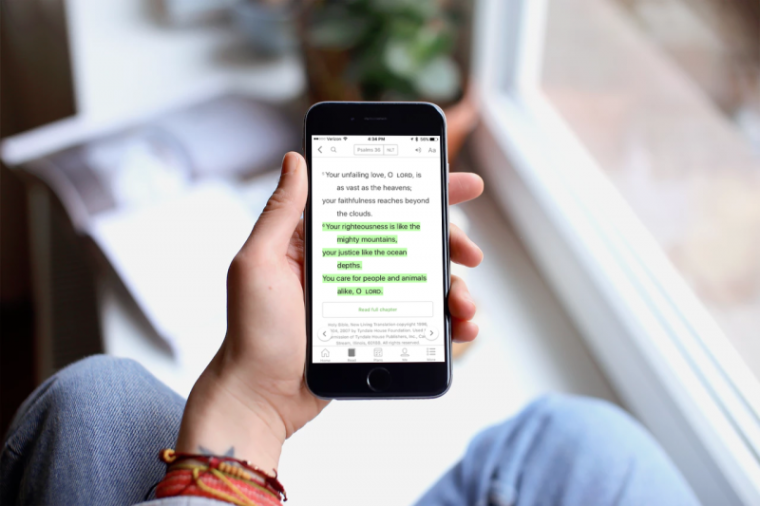 Technology has allowed the faithful to bring Bibles in their pockets in the form of Bible apps. Now, a popular Bible app has added new functions that allow for a more interactive and immersive Bible study.
YouVersion has added a Virtual Reality function, WRCBtv reported. The first VR Bible study is timely for the Easter season, as it gives users the chance to walk through what happened during the time leading to Christ's death on the cross and eventual resurrection.
Life Church, creator of YouVersion, worked with film production company The Octagon Project to create the immersive Bible study feature.
"Thanks to this partnership with The Octagon Project, the YouVersion community can experience the same steps Jesus took in Jerusalem," Bobby Gruenewald, Life Church Innovation Pastor and founder of the YouVersion Bible App, told WRCBtv. "We're thrilled to leverage technology like virtual reality to help people become more immersed in Scripture."
Timely spoken word
YouVersion, working with Google, now also brings users a personalized audio Bible experience. According to VentureBeat, Google Home users can ask the Google Assistant to read Bible verses specifically suited to what they feel or need at the moment.
This function, called "YouVersion action," will read users Bible verses every day or can make a Bible reading plan. It can also read users Scriptures depending on their mood. By telling it things like "I'm angry" or "I feel sad," it will respond by reading verses that fit the mood described.
Using technology to advance the mission
Technology is indeed helpful. Because of technology, more than 250 million devices have portable Bibles in the form of the YouVersion, its creator said as per VentureBeat. There are other Bible apps that can be downloaded for iOS, Android, and Windows devices, but Bibles as portable as this could only happen through technology.
Other companies are also looking to use technology for faith-based purposes. L. Michelle Media, for example, used VR to create a fully immersive faith-based experience, NBC News reported. This new faith-based VR experience is called Believe VR.
The first Believe VR "experience" immerses users in the life of Nicky Collins, who balanced ministry, family, and "overall life in between" as she went through pre-breast cancer diagnosis, surgery, and breast reconstruction.
Collins, who co-pastors Higher Dimension Church in Tallahassee, Florida with her husband Pastor Carlos Collins, told NBC that her prayer is that "people will hear my story through VR."