YouVersion Bible App Tops 100 Million Downloads; Releases Series of Infographics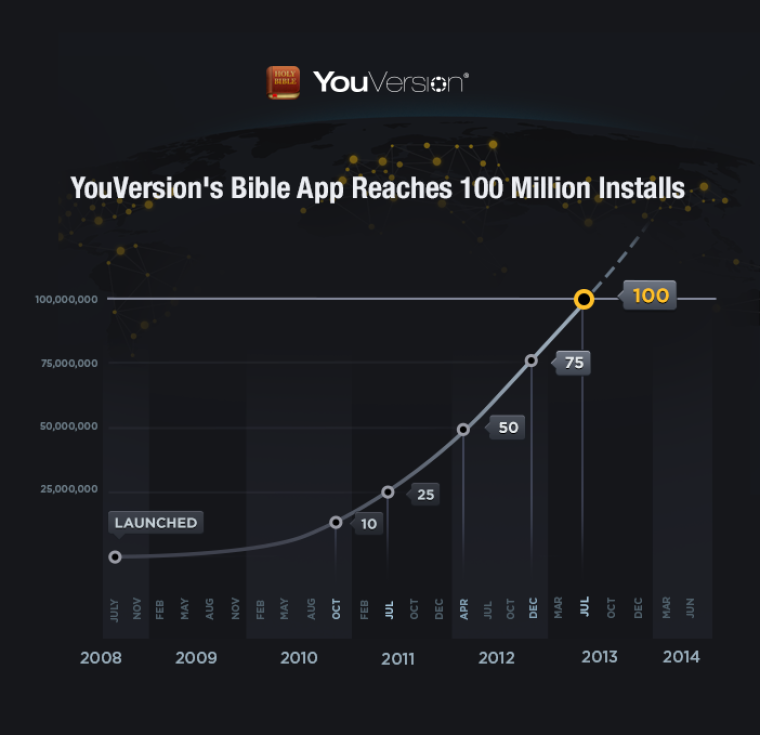 YouVersion Bible App hit the 100 million downloads mark Sunday evening. The ministry organization released a series of infographics to help commemorate the milestone.
The free Bible App was among the first 200 apps available on iTunes. Today, there are over 900,000 available on iTunes, which celebrates its five-year anniversary on Wednesday. For three consecutive years, Apple has ranked the Bible App among the top 100 free apps. Currently, it's available for virtually every mobile device. Pastor Bobby Gruenewald of LifeChurch.tv in Oklahoma, the pastor, who came up with the idea of using technology to make the Bible more accessible on smart phones and tablets, said he hopes the app will surpass the popularity of those rated the highest in the field today.
"We're excited to see the Bible rising in the ranks, because it means God's Word is becoming more widely known," Gruenewald told The Christian Post on Monday. "One day we hope it would far exceed the popularity of Facebook, Twitter and Instagram."
To read more about what Gruenewald told CP about the Bible App hitting the 100 million mark and what the future might hold click here: Bible App Hits 100 Million Downloads; Innovative Pastor Hopes It Surpasses Facebook, Twitter, Instagram in Popularity.
The series of infographics to help commemorate the milestone that can be seen above and below.