Coral Tours Distinctions - It's All About Relationships
Part of Coral Travel & Tours distinction as an Israel tour operator is the importance placed on building relationships with our clients. Someone recently told me, "Value rests in a need well met." I thought to myself, yes we do that, Coral strives to provide the utmost care and attention to our customers' wishes – to give them the best Holy Land experience. That's fundamental. But beyond that, Coral strives to build partnerships with people who use our services to draw believers closer to Jesus. And it's been that way since day one:
It was in the year 2000 that Ret. Col. Shalom Almog, an expert in the Israel travel industry, was approached by his long-time friend – Israeli guide Roni Winter – about bringing Christian church groups to the Holy Land. Up to this point and since his IDF retirement, Shalom worked in Israel tourism exclusively with the American and Canadian Jewish communities, bringing groups to experience family bar/bat mitzvah tours of Israel – Jewish heritage tours. He told Roni he wasn't ready. "He didn't know enough about the Christian people" or who Jesus was for that matter. That all changed one night when Shalom went to sleep and had a dream.
In the last days, God says, I will pour out my Spirit on all people. Your sons and daughters will prophesy, your young men will see visions, your old men will dream dreams.
In the dream, Shalom felt he was being told it was time. In his words, he "got a call [calling] from Jesus." The next morning when he woke up and was shaving, he got a phone call from his friend Roni saying there's a pastor in California looking for a good tour company to bring his church to Israel for a pilgrimage tour. Roni was referring to Clark Van Wick, senior pastor at Calvary Chapel Bible Fellowship in Temecula, California. Shalom got his phone number and knowing the time difference between California and Israel (about 10 hours) he gathered as much intel about Jesus, about Christianity, and about Pastor Clark as he could. Later that evening, Shalom called him and spoke nonstop. To hear him tell the story he didn't stop talking, not even to take a breath. In the end, Pastor Clark told Shalom he was going to think about it and pray. Later, Pastor Clark called Shalom back and said he wanted to work with him and that was the beginning of a great partnership and how Shalom began bringing church groups to Israel.
For Shalom it was never just about a business transaction, he gave Pastor Clark one condition – that he could be with the group and learn from him. This was the beginning of a life-long friendship. Calvary Chapel Bible Fellowship has brought groups to Israel with Shalom and Coral Tours over a dozen times since then. They have included Israel tours for congregational groups, high school groups, Israel pastor familiarization tour groups as well as a women's leadership group. And Shalom still to this day goes along with the tour. It's not uncommon to find him or his wife, Irit, spending time with almost every tour Coral conducts. Again, because it really is about relationships.
My very first trip to Israel when Shalom hired me to work for him was a tour led by Pastor Clark. As you can imagine, a maiden journey to the Holy Land can be a little overwhelming. There's just so much of everything to soak up – the rich history of the land, the amazing architecture – both modern and ancient, the stunning geography, delicious food you've never tried before, being at a site like Caesarea Philippi and reading Matthew 16:15
 when Jesus asked Peter, "Who do you say that I am". It's a difficult thing to express the feeling you have being there. Everyone says it, because it's true, the Bible comes to life right before your eyes. There's no better way to study the Bible than to be where it all happened. It's been ten years since I began working for Shalom and Irit and it's been an incredible journey. I've included some photos from Pastor Clark's tours through the years below. I hope I've inspired you to consider traveling to Israel to see it yourself.
If you'd like to partner with us in bringing your church group to Israel give us a call at 866.267.2511 or send an email to info@coraltours.org.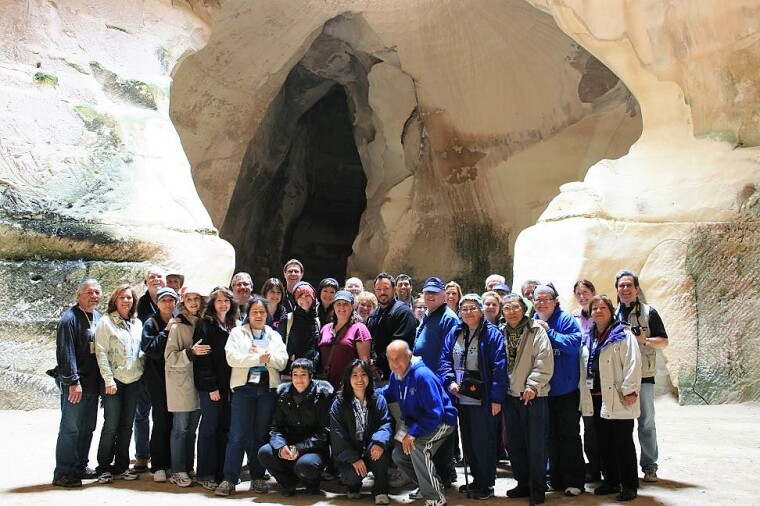 Here a CCBF group in February 2010 stand in front of the Bell Cave in the Beit Guvrin National Park, a UNESCO world heritage site. The Bell Caves are a network of some 800 caves carved for their chalk. As you can imagine these spectacular caves are the perfect place to worship! Singing How Great Thou Art or Amazing Grace in these caves is an experience you will never forget!! — at Beit Guvrin-Maresha National Park.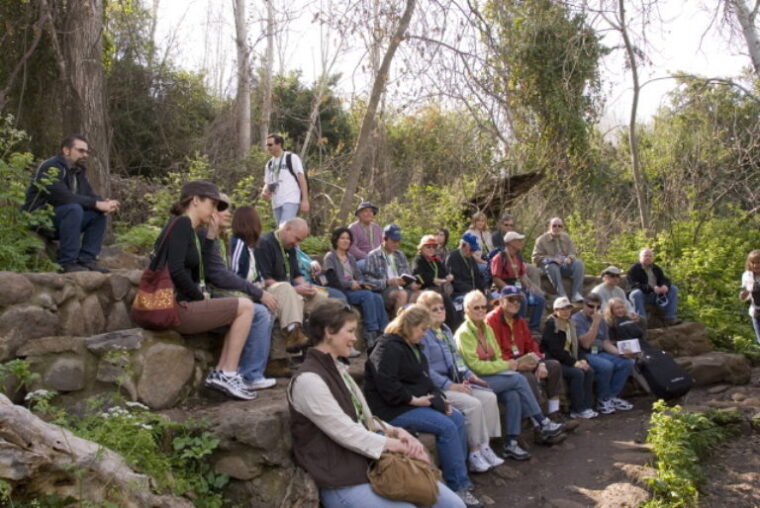 Taken in February 2010 here pilgrims from CCBF are at Tel Dan. Tel Dan is a national treasure with some of the most stunning nature trails in all of Israel. It is mentioned in the Bible as the northernmost city of the Kingdom of Israel. This is the portion of land that was assigned to the tribe of Dan. The Dan River is a tributary of the Jordan River fed by multiple springs which emerge from underground fault lines. It is the perfect place to rest and learn more about the region from a biblical perspective.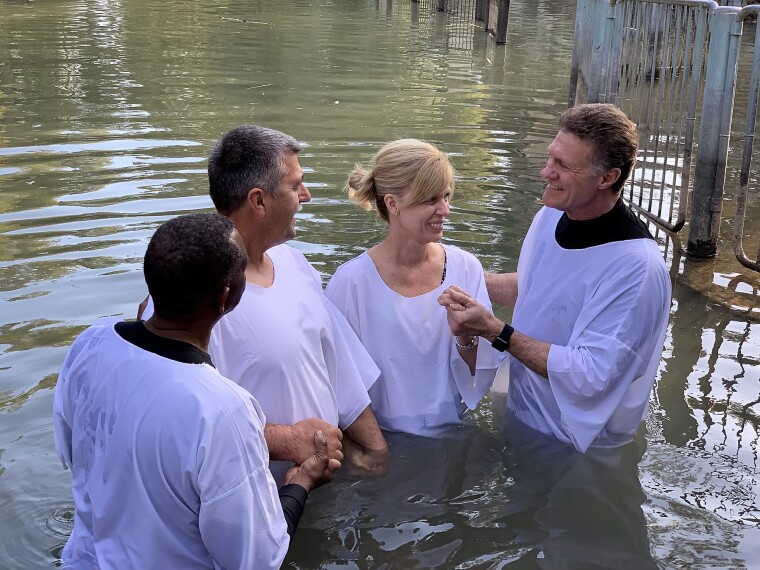 Here Pastor Clark Van Wick is baptizing pilgrims in the Jordan River. Yes, the water is cold almost all year long. BUT, it is worth a little chill. Or, like Pastor Clark, you can bring a wetsuit! 2016 — atYardinet.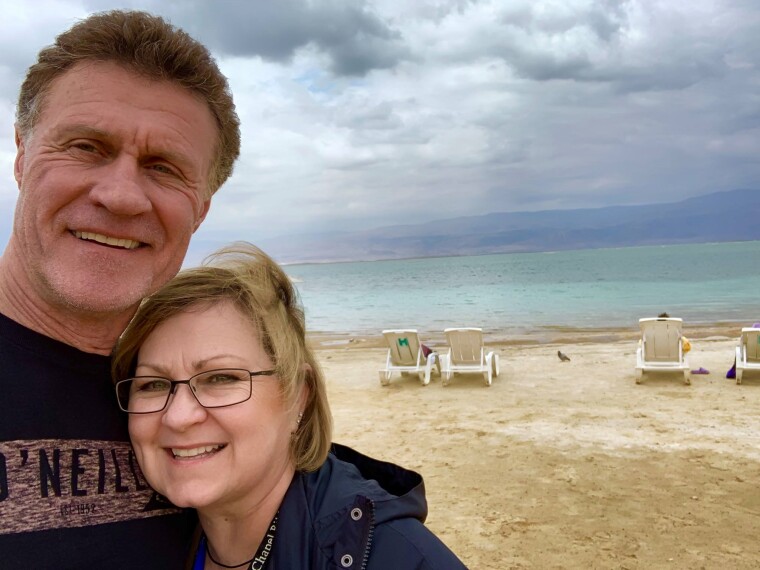 Pastor Clark & Sally Van Wick at the Dead Sea. Photo taken this year in March. The Dead Sea is the lowest elevation on Earth at roughly 1400 feet below sea level. It is one of the saltiest lakes with a salinity of approx. 34%. The Dead Sea lies in the Jordan Rift Valley bordered to the east by Jordan and to the west by Israel and the West Bank. Due to its harsh saline environment nothing can grow in it, however due to its high mineral content, Dead Sea mud has been touted for its therapeutic properties for centuries. — at The Dead Sea.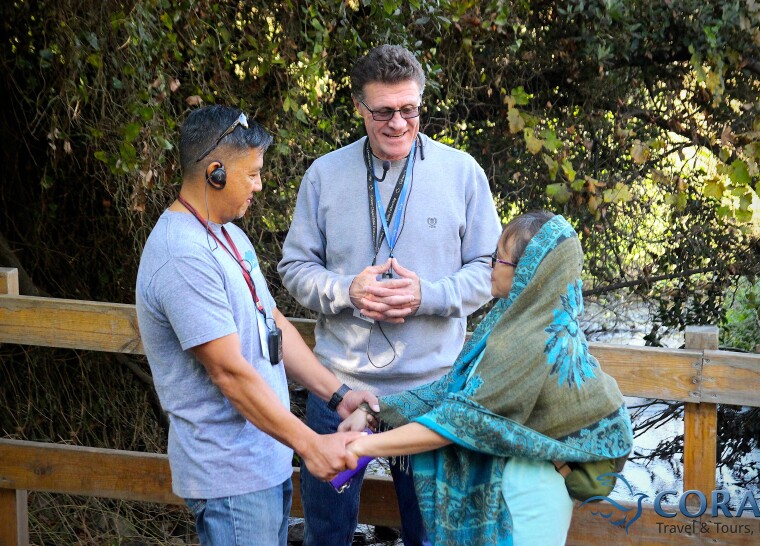 Wedding vow renewal is one of my favorite things Coral offers during a trip to Israel. Here, Pastor Clark Van Wick presides over the marriage vow renewal ceremony of a sweet couple from CCBF.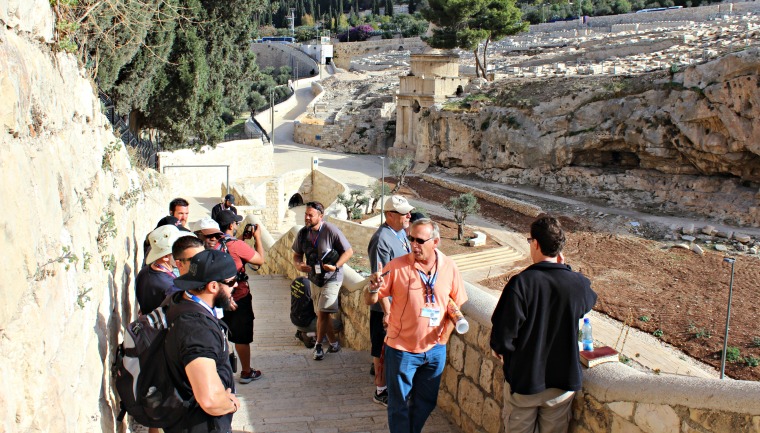 Here CCBF men's group is viewing the Tombs of the Patriarchs in the Kidron Valley.
Get Clark Van Wick's new book on Amazon, The Work of the Holy Spirit in the Early Church: A Commentary on the Book of Acts.
Christian Tours to Israel! Call us at 1-866-267-2511, we specializes in designing custom, private & group tours to Israel all with Christian orientation.