LA Dodgers cancel plans to honor 'hate group' at 'pride night' ceremony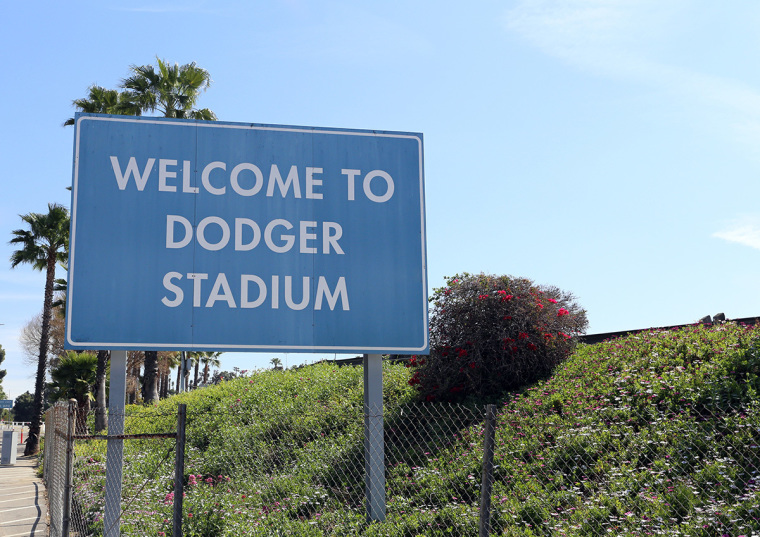 The Los Angeles Dodgers have canceled their plans to honor what one Catholic advocacy organization describes as an "anti-Catholic hate group" after its leader wrote a letter to the Major League baseball team asking it to sever ties with them. 
In a Twitter post Wednesday, the advocacy group CatholicVote shared a statement from the Los Angeles Dodgers, indicating that it had become aware that "our inclusion of one group in particular — The Sisters of Perpetual Indulgence — in this year's Pride Night has been the source of some controversy."
The team announced that "given the strong feelings of people who have been offended by the sisters' inclusion in our evening, and in an effort not to distract from the great benefits that we have seen over the years of Pride Night, we have decided to remove them from this year's group of honorees." In response to this development, CatholicVote President cheered that the team had "reconsidered their decision to honor an anti-Catholic hate group known for their gross mockery of Catholic nuns."
"While we continue to wonder how such a group was selected in the first place, this incident should serve as a wake-up call for all religious believers: unchecked woke corporations have no qualms about exploiting people of faith," he added.
The Dodgers' move comes after CatholicVote President Brian Burch sent a letter to the Los Angeles Dodgers and Major League Baseball Commissioner Rob Manfred on Tuesday expressing concern that the MLB team was planning to "honor an anti-Catholic hate group during a 'pride night' ceremony next month." Burch noted that the Dodgers were slated to present a "Community Hero Award" to the "Sisters of Perpetual Indulgence" before its June 16 home game against the San Francisco Giants. 
"The Sisters of Perpetual Indulgence (SPI) are an anti-Catholic hate group which exists to desecrate and denigrate the Catholic faith. Their sole mission is to disgust Christians with the most grotesque acts they can imagine," he wrote.
Burch listed examples of what he characterized as "grotesque acts," including the mockery of Catholics by "taking on vulgar names such as 'Sister GladAss of the Joyous Reserectum'" and dressing "in sexualized perversions of religious garb." He expressed particular outrage about the fact that they "tricked an archbishop into giving them the Eucharist — the most important sacrament of the Catholic faith — so they could defile it."
"This past Easter Sunday, the SPI put on an exhibition in San Francisco in which a performer dressed as Jesus carried a cross up a hill and then performed a pole dance on it," Burch added. He stressed that the Dodgers' plans to recognize an "anti-Catholic hate group" come at a time when "Catholics are under threat across the country to a degree not seen in decades." 
After explaining that "in the past three years, there have been over 300 acts of violence and vandalism against Catholic churches in the United States, including nearly 50 in California alone," Burch maintained that "through this award, the Dodgers are contributing to the climate of increasing hostility against Catholics." 
Burch also suggested that the late Dodgers sportscaster Vin Scully, a devout Catholic who "spoke often about the importance of his faith and raised money for Catholic charities around California and the world," would "be appalled that the team [he loves] would dishonor [his] faith in such a manner." He concluded the letter by asserting: "If the Dodgers are truly committed to fighting bigotry and promoting inclusivity, as you have often claimed, you must cancel this award."
As Burch indicated, the Dodgers announced their intention to honor the Sisters of Perpetual Indulgence in a May 4 statement about its forthcoming "LGBTQ+ Pride Night." The MLB team will present the SPI's Los Angeles Chapter with a Community Hero Award in recognition of "their countless hours of community service, ministry, and outreach to those on the edges, in addition to promoting human rights and respect for diversity and spiritual enlightenment."
The SPI's website describes the group as "a leading-edge Order of queer and trans nuns." They work to "use humor and irreverent wit to expose the forces of bigotry, complacency and guilt that chain the human spirit." SPI was founded in 1979 and has nearly four dozen chapters spanning across 27 states and nearly two dozen additional chapters worldwide. 
The group puts on a "Hunky Jesus" competition and a drag Easter Egg hunt every year in San Francisco although the events did not take place during the COVID-19 lockdowns. At the gathering last year, men in drag and other "queer nuns" dressed up in costumes in an effort to win the titles of "Hunky Jesus" and "Foxy Mary." 
Erik Braverman, the Dodgers' senior vice president of marketing, communications, community relations, and broadcasting, cited the upcoming "pride night" festivities as an opportunity to "showcase our dedication to fostering an inclusive environment both on and off the field." He pitched the occasion as "an unforgettable celebration that shines a spotlight on the strength and resilience of the LGBTQ+ community," vowing to "continue to knock down barriers and foster an atmosphere of acceptance for all."