6 Teens Killed in Crash: SUV Flies Off Highway Into Pond Killing Teenagers (VIDEO)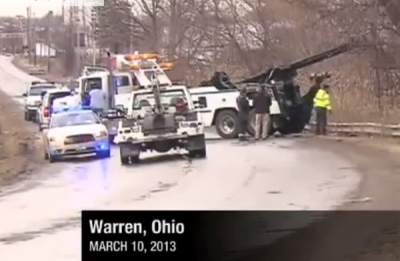 6 teens have been killed in a crash in Ohio in a tragic accident on Sunday morning.
According to an Ohio hospital spokesperson two of the six teenagers were killed while receiving treatment following a single vehicle accident. Two other teens were also injured, but after receiving treatment were released from the hospital.
According to the Ohio State Highway Patrol, a sports utility vehicle was carrying eight teenagers when it crashed into a guardrail early on Sunday morning. The car flew off into a nearby pond near the city of Warren, which is about 60 miles east of Cleveland.
The two teens who were declared dead at the hospital were being treated for "hypothermic drowning trauma," according to a nursing supervisor at St. Joseph Health Center in Warren.
The two other children who survived were only treated for bruises and other injuries.
Officials were not clear on where the Honda Passport SUV was traveling to when it crashed near the Pennsylvania state line.
All those killed in the crash were aged between 14 and 19 years old, according to officials. Their names have not yet been released as relatives are still be notified of the accident and the tragic deaths.
According to reports, the highway patrol received an emergency call about the crash at 7:15 a.m. local time.
Here is a video report showing the aftermath of the crash in Ohio March 10, 2013 that killed 6 teenagers: