Abandoned Toddler Zoe Brown Found by Social Media: 2 Million Facebook Posts
Authorities have said social media played a large role in helping to ID an abandoned toddler who was found last Tuesday in South Carolina.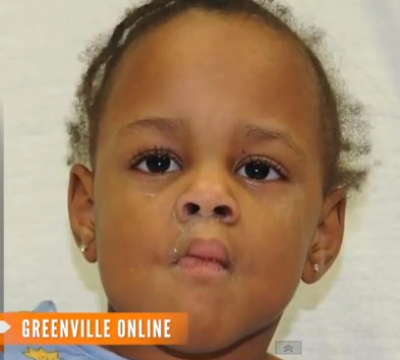 Authorities identified and arrested the girl's parents, 31-year-old Alonzo Brown and 37-year-old Tongela Denise McBride, on Friday. The girl was left in a stroller with a note that read: ""Call DFAC" or Division of Family and Child Services.
But the girl's parents may never have been discovered, if it were not for social media. According to Anderson County Sheriff's Office, Facebook played a pivotal role in identifying the girl. Over 2 million people reposted Facebook photos of the toddler last week after the Sherriff's office made a public appeal, the Independent Mail reported. A tip came in identifying Brown.
The girl's home was located in Marietta, Ga. Police are still searching for the link between where Brown was discovered and her hometown. Zoe was taken to the hospital immediately after being discovered and was confirmed to be in "good health," reports said. She is currently in South Carolina foster care.
Judge James Cox denied the Alonzo Brown bail after Anderson County victim's advocate Marlene McClain said he posed a flight risk.
"It is a pretty heinous crime when you think about what happened to her, and a child that's in the situation that she's in. So, we are at this time going to deny your bond," Cox told Brown at his arraignment, according to the Huffington Post.
Tongela Denise McBride was placed in Cobb County Detention Facility. She will be brought to Anderson County to face charges, although officials said that could take up to a week. Both parents were charged with the unlawful neglect of a child.
Zoe Brown, Abandoned Toddler In South Carolina, Identified Solving 'Little Jane Doe' Mystery