Beyonce Jay Z Performing at 56th Grammys; Will They Sing 'Drunk In Love'?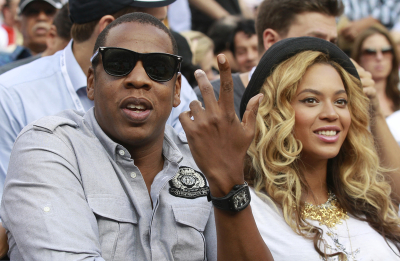 Beyonce and Jay Z will reportedly perform at the 56th Grammy Awards on Sunday and fans are speculating whether the couple will perform their hit song "Drunk In Love" live for the very first time.
The Hollywood power couple attended the awards show last year, but did not perform together. Unconfirmed reports claim Beyonce, 32, and Jay Z, 44, will take the stage on Jan. 26 to sing a number of hit songs together and Ken Ehrlich, who is a longtime Grammy Awards show producer, recently fueled these rumors, according to the Los Angeles Times.
"Let's put it this way … we have a really great history that goes back to the early days of Destiny's Child. I love working with [Beyonce]. She's incredible. She is so into what it is that she does and making sure that everybody who sees her walks away saying, 'wow,'" Ehrlich told the Los Angeles Times.
"Should she be on the show this year?" he continued. "I would think that the potential is there for that kind of moment."
Ehrlich emphasized that he "can't confirm" an appearance from Beyonce however he did not deny that the singer, widely dubbed "Queen B," is performing with her husband Jay Z. Also rumored to be performing is pop star Madonna, but there has been no direct confirmation.
This year's list of confirmed performers includes Taylor Swift, Lorde, Macklemore & Ryan Lewis, Daft Punk, Paul McCartney, Katy Perry and Kendrick Lamar among others.
In December, Beyonce released her self-titled fifth studio album to rave reviews and fans are anticipating a live performance of her new music on Sunday. The pop star has been nominated for at least one Grammy award this year as a featured artist on Jay Z's "Part II (On The Run)."
In 2010 the singer broke the record for most number of Grammys won by a female artist in a single night and to date she has won 17 awards from 45 nominations.