Boys Rescued From Thai Cave in High Spirits During First Media Interview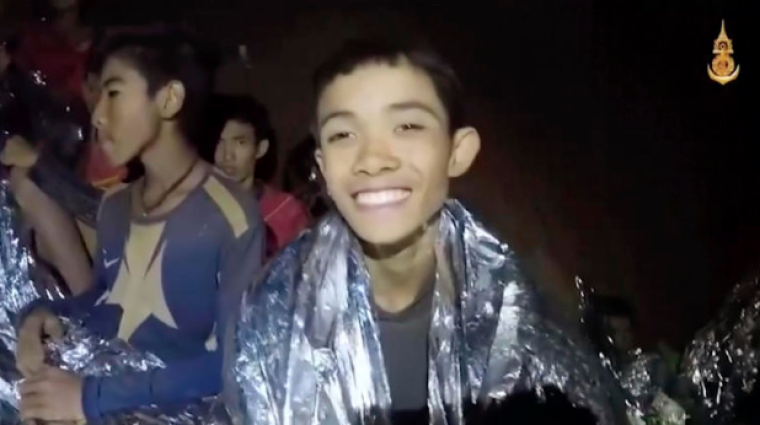 A week after their high-risk rescue, the members of the Thai youth soccer team who were trapped in a cave shared their excruciating experience with the public for the first time.
Speaking in front of the reporters and their loved ones in a press conference held in the province of Chiang Rai, the 12 players of the Wild Boars soccer team and their coach showed how happy they all were after their dramatic rescue from a flooded cave in Northern Thailand.
The boys, dressed in their team shirts, and their coach explained why they went inside the Tham Luang cave on June 23 in the first place. According to coach Ekapol Chantawong, the team normally embark on group activities after soccer practice. Since some of them were curious to look inside the cave, they decided to conduct their activity in that location.
They also mentioned that they explored the tunnels underground for at least an hour before they talked about heading back. However, the cave was already flooded and the mouth of the cave was already blocked at that time.
When they realized that they already trapped, the coach said that they just decided to look for a safe place to rest inside the tunnel. They chose a place near a clean source of water.
"We moved further in for about 200 meters," the coach said as reported by CNN. "There we found a bit of slope and there was a small water source inside the cave," he added. He also said that they said their prayers before they slept that night.
However, after their first night, the flood did not subside. Instead, the water level quickly rose up. The coach reportedly told the group that they should seek for a higher place. Since they just ate after their soccer practice, they did not bring food with them during their trip. When asked how they dealt with hunger, 11-year-old Chanin "Titan" Wibrunrungrueang said, "I tried not to think about food because it would make me hungry."
Days after being stuck inside the cave, some of them almost lost hope that they could still come out alive. But when they finally learned that two British divers found their way to them, 14-year-old Adun Sam-On said that it felt like a "miracle moment" as mentioned by The Guardian.
The boys spent the first few days after their rescue in a hospital for their health and mental assessment, then they finally reunited with their families after the press conference.