Chris Brown Files Lawsuit Against Basketball Player for Suing Him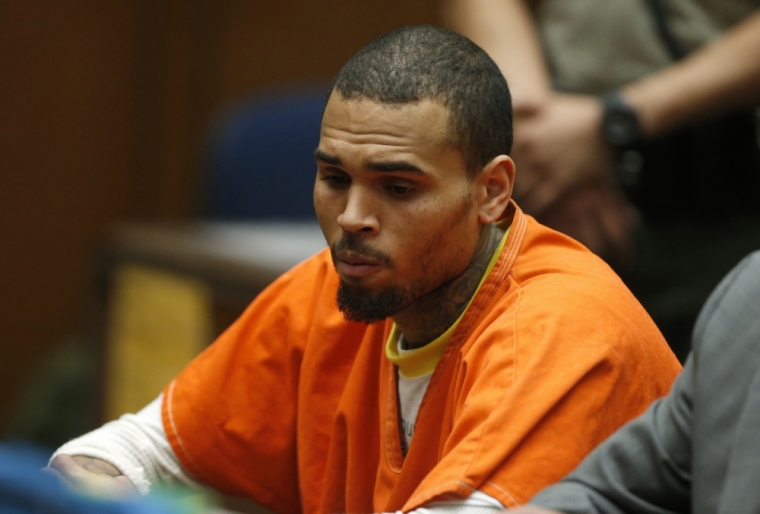 Chris Brown is filing a counter lawsuit against a basketball player who he believes is trying to extort the singer.
Brown, the 25-year-old singer-songwriter may be currently working on himself in jail, but TMZ is reporting that he is taking action after one man sued him for assault. Earlier this year news surfaced that Malcolm Ausbon would sue Brown after reportedly playing basketball with the singer in a 24-Hour Fitness gym, which allegedly ended in a physical altercation last July.
However, TMZ is reporting that Brown has decided to file a lawsuit of his own.
"Brown has now counter-sued Ausbon, claiming he had nothing to do with the fight and Ausbon knew it, but tried to shake him down for a quarter-of-a-million dollars," TMZ reports. "According to Brown's new counter-suit -- obtained by TMZ -- Ausbon admitted to Brown's people the singer was not the culprit, but later his lawyer made this written demand."
The publication also reports that Brown's lawyer, Mark Geragos, alleges that Ausbon offered to keep the incident a secret if he was paid off by the singer. Instead of giving him money, Brown decided to file a lawsuit of his own.
After Ausbon called a foul on Brown, he is alleging that the singer threatened him before attacking him with the help of three bodyguards, according to TMZ. The assault resulted in Ausbon attending the emergency room at a local hospital last July, after reportedly suffering injuries to his face, head, neck, back, legs and ribs.
While TMZ reported that sources close to Brown did admit that something happened during the basketball game, they denied that punches were thrown.
Last October, Brown was accused of assaulting one man who wanted his picture while the 24-year-old singer was visiting the capital city to perform. The singer and his bodyguard Christopher Hollosy reportedly got into an altercation in front of the W Hotel in the city.
The 25-year-old singer-songwriter may have been sentenced to serve one year in jail for violating his probation. After already serving time in jail and a rehabilitation center for a combined seven months, Brown was given credit for serving 234 days already, according to CNN reports.
With only 131 days left to serve, TMZ is reporting that Brown could have that time cut to less than a week.
Brown's lawyer, Mark Geragos, spoke about the potential release of his client on Monday, even though the day has came and went.
"I would expect that Chris should be out of jail before the weekend's up or before Monday," Geragos told CNN. "If he isn't out by Monday, then I would expect he's getting special treatment. He's got over 230 days credit on a 365 (day sentence) and generally the sheriff is releasing on a lot less than that."