Chris Brown Getting Out Of Jail Monday?
Chris Brown may have recently been sentenced to four months in jail, but he may be a free man in a number of days.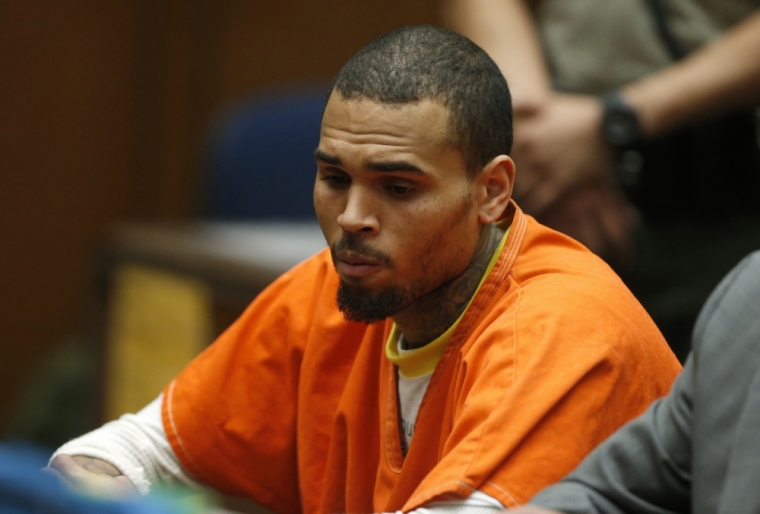 The 25-year-old singer-songwriter may have been sentenced to serve one year in jail for violating his probation. After already serving time in jail and a rehabilitation center for a combined seven months, Brown was given credit for serving 234 days already, according to CNN reports.
With only 131 days left to serve, TMZ is reporting that Brown could have that time cut to less than a week.
"We're told the L.A. County Sheriff's Dept has been releasing inmates sentenced to 1 year after 240 days," TMZ is reporting. "Chris gets credit for 2 days for every 1 he served behind bars, so when you add it up, he has credit for 234 days -- 6 days shy. So he could be released in days."
Brown's lawyer, Mark Geragos, spoke about the potential release of his client.
"I would expect that Chris should be out of jail before the weekend's up or before Monday," Geragos said, according to CNN reports. "If he isn't out by Monday, then I would expect he's getting special treatment. He's got over 230 days credit on a 365 (day sentence) and generally the sheriff is releasing on a lot less than that."
The news came Friday, and Brown's lawyer insisted their team was grateful for Los Angeles County Superior Court Judge James Brandlin's ruling.
"We're gratified that he was not sentenced to state prison, gratified that he's still on probation," Geragos said, according to CNN. "I think that Chris has learned quite a bit through this experience and I'm anxious to see how he does, as I think everybody else is."
Brown's probation violation stems from the singer being accused of breaking the nose of Parker Isaac Adams, 20, who allegedly attempted to sneak into a photograph that Brown was taking with two women last year, according to E! News reports. While Brown admitted to violating his probation which results in the recent ruling, he must still undergo a trial for his Washington, D.C. assault case.