Deen Ovation in Houston, Texas: 'Y'all's Hearts Are as Big as Your State' Says Chef in Tears (VIDEO)
Paula Deen received a Texas-sized applause on Saturday at her first public appearance following months of controversy.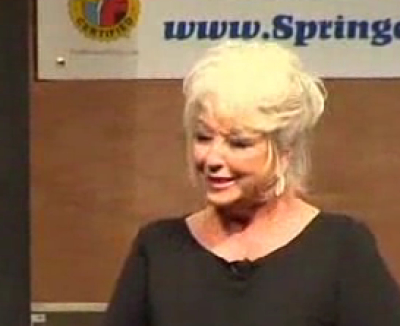 Last month it may have seemed like Paula Deen had lost her entire fan base. After being cherished for nearly 15 years in the public eye for her Southern styled cooking, Deen suffered a summer of controversy over accusations that she had used racial slurs in the past. But a Houston audience seemed unfazed by negativity on Saturday as the Food Network star made her first public appearance following controversy at the Metropolitan Cooking and Entertainment Show.
Deen was welcomed by a standing ovation remnant of the friendly reputation that Texans are so well known for. She was met with an audience of 1,500 people for the sold out show and immediately brought to tears by the warm welcoming which affirmed her previous view that Texas was the best place to start.
"These are tears of joy, y'all. I've said all along that the one place I'd want to make my first step back out was Texas," Deen told the Houston crowd. "Y'all's hearts are as big as your state."
Of course the crowd was filled with more than just Texans. Other Deen fans also admitted to flying long distances in order to show support for one of their favorite Food Network stars.
"I started getting teary-eyed and I just told her we got her back and I said, 'I'm sorry you're going through this.' And she was crying," Lucas Boucher, who flew in from Los Angeles to meet Deen, told CNN.
Deen had a public falling out in June when a lawsuit was filed against her alleging that she had used the "n-word" with a former restaurant employee. After the accusations, Deen was dropped by the Food Network with other stores who sold her products following suit.
Paula Deen Breaks Down in Tears