Eminem New Album 2013 Interview: Rapper 'Really Uncomfortable' During Bizarre ESPN Segment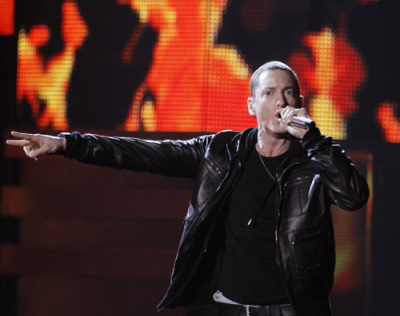 Eminem's new album The Marshall Mathers LP 2 is coming out soon, and the 40-year-old rapper appeared on ESPN Saturday to promote the album's first single, "Bezerk." During his short halftime segment during the Michigan-Notre Dame game, though, he looked dazed and out of it, giving short, blunt answers to the announcers' questions.
Eminem's new album interview began with him open-mouthed, seemingly confused and looking completely away from announcers Kerk Herbstreit and Brent Musburger for nearly a full four seconds. Once they finished their segue, Herbstreit asked Mathers what he was most excited about on the album.
"Um, nothing," Eminem responded, leading to an awkward silence from the announcers. "Well it'll be out November 5, I'll probably be most excited to just be done with it."
"It's called The Marshall Mathers LP 2 and it's kind of a revisit to the first Marshall Mathers LP. That's pretty much all I can probably say about it," he continued while his previous single "Not Afraid" blared in the background.
The rest of the interview was mainly coverage of the game until Eminem revealed how big of a fan he was of legendary announcers like Musburger, John Madden, Al Michaels and the late Pat Summerall— the rapper's people asked for Musburger's autograph, according to SportsIllustrated.com. Mathers was also apparently nervous about doing a live interview, asking the announcers "How do you guys do live TV week to week?"
To combat his nervousness, Eminem decided to act bizarrely during the on-air segment on purpose.
"I'm really uncomfortable right now," he said at the end of the interview.
The stunt worked, with Eminem trending worldwide on Twitter afterwards.
"He was just messing with everyone," Bill Bonnell, executive producer of ESPN's Saturday Night Football, told Sports Illustrated. "We had no idea he would do that, but if you see the music video, it's him looking into the camera and doing a throwback to the '80s. You clearly saw after the video was over, he became Marshall Mathers again. He was goofing around."
"He's a mesmerizing performer and it was a great clash of pop cultures colliding," Bonnell added.