ESPN Body Issue 2012 Releases Preview Photos (PHOTO)
ESPN has released preview photos of its "The Body Issue," which will feature 27 world-class athletes posing nude in a celebration of their toned physiques. This year's issue with a slant on the 2012 London Olympics includes NBA's Knicks player Tyson Chandler, Brazilian surfer Maya Gabeira, and the USA Women's Volleyball team (Check below for a full list).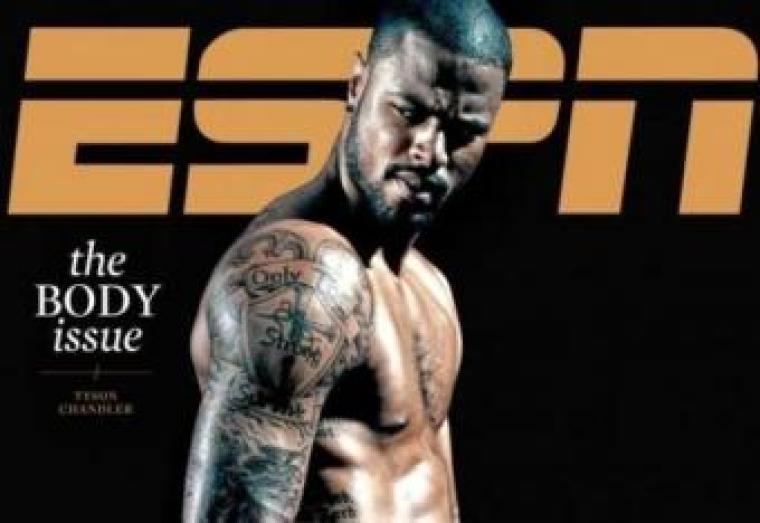 "It's a very artistic shoot, and seeing that in past issues made me want to do it," Chanlder said in an interview with ESPN.
Toronto Blue Jays' slugger Jose Bautista said he wanted to participate to help "people to understand that athletes make a lot of sacrifices for their bodies."
Abby Wambach, U.S. Soccer forward, said, "If you have confidence inside, it will exude on the outside."
For Candace Parker, WNBA power-forward, it was about displaying her hard work.
"I hope to send the message that if you work hard, you can come back just as good as before," she told ESPN.
Editors of the ESPN Body Issue say the photos are for admiring the "vast potential of the human form." Critics of the Body Issue don't view the photos as art but say they are soft porn.
"It's okay to stare. That's what The Body Issueis here for," reads a blurb on the ESPN Body Issue's website. "Each year, we stop to admire the vast potential of the human form. To unapologetically stand in awe of the athletes who've pushed their physiques to profound frontiers. To imagine how it would feel to inhabit those bodies, to leap and punch and throw like a god. To ... well, gawk. So go ahead; join us. "
In the issue's "Bodies We Want" portfolio, the fourth of its kind, a total of 27 athletes strike an artistic pose and hold props related to their sport category.
The 2012 edition of ESPN The Magazine's The Body Issue will hit stand on July 13.
The full line-up of 27 athletes to be featured in the 2012 ESPN Body Issue:
• Carlos Bocanegra (soccer)
• Daniela Hantuchova (WTA)
• Rob Gronkowski (NFL)
• Abby Wambach (soccer)
• Tyson Chandler (NBA)
• Candace Parker (WNBA)
• Maurice Jones-Drew (NFL)
• Jose Bautista (MLB)
• Brad Richards (NHL)
• Maya Gabiera (surfing)
• Ronda Rousey (MMA)
• Mike Smith (jockey)
• Tim Morehouse (fencing)
• Walter Dix (track)
• Danell Leyva (gymnastics)
• Suzann Pettersen (LPGA)
• Ashton Eaton (decathlon)
• Carmelita Jeter (track)
• Anna Tunnicliffe (sailing)
• Oksana Masters (paralympic rowing)
USA Volleyball Team:
• Destinee Hooker
• Stacy Sykora
• Alisha Glass
• Cynthia Barboza
• Megan Hodge
• Nellie Spicer
• Heather Bown
Do you think this is art or soft porn?