'Grimm' Season 5 Spoilers: NBC Teases 'Shocking' Finale Twists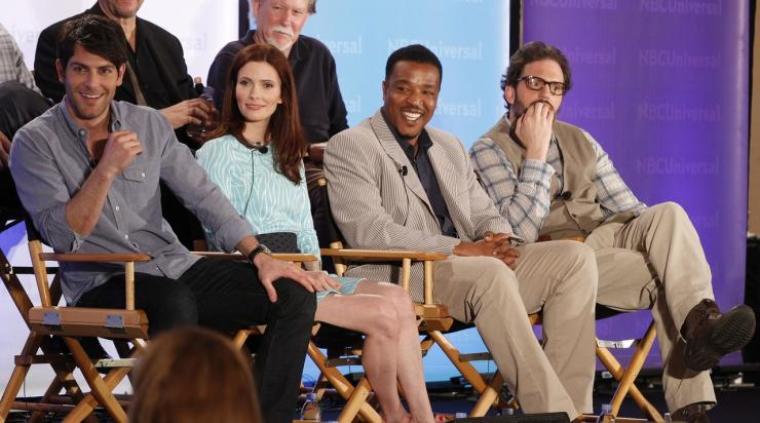 It looks like NBC is quite determined to conclude the Season 5 of its hit supernatural drama TV series "Grimm" on a high and "shocking" note as spoilers seems to hint on a major death at the end of the hour.
For those who missed "Bad Night," it was revealed that Captain Sean Renard is actually a member of the deadly Wesen group called the Black Claw. This discovery gave Nick the much-needed reason to go after the officer. Adding to the Grimm's fury is the fact that the police-turned-politician is in possession of Adalind and their son Kelly.
To give a better glimpse of what's coming up in the next episodes titled "Beginning of the End," the network dropped a promo video. A voiceover in the clip can be heard warning that the events are "so shocking, we can't show you anything from the second hour."
Check out the clip below:
Of course, long-time followers of the series have already seen that Nick will have an all-out battle with the Black Claw and Renard himself. The two can be seen in the teaser having an altercation, where Nick ends up getting thrown right out of the precinct's window. Could this level of rage between the two men mean that one of them will die?
As if Renard is not enough to fill his hands, the two-hour special will also find Nick going after the evil organization as they release a horde of deadly creatures, one of which is going after his longtime partner in the force Hank Griffin.
Meanwhile, other spoiler details spotted on the video points out to Diana, who seem to have a magical influence on her parents as she plays with her dolls, which in turn makes Adalind and Renard to kiss each other.
The Futon Critic released the full synopsis for Episodes 21 and 22 which reads:
"Black Claw makes a strategic move against Hank (Russell Hornsby) that shocks everyone and sends Nick (David Giuntoli) on a war path. Hadrian's Wall ramps up their investigation as they seek out a mysterious man named Bonaparte (guest star Shaun Toub). Meanwhile, Adalind (Claire Coffee) and Capt. Renard (Sasha Roiz) must learn to deal with their new and very unpredictable reality with Diana (guest star Hannah R. Loyd)."
"Grimm" Season 5 finale airs this Friday, May 20, on NBC.