Hobbit Headaches: Viewers Complain of Dizziness at Peter Jackson's New Movie (VIDEO)
Hobbit Headaches: Viewers Complain of Dizziness at Peter Jackson's New Movie (VIDEO)
The Hobbit has been accused of causing viewers headaches and dizziness. The newest Peter Jackson film, the highly-anticipated "The Hobbit: An Unexpected Journey" was shot using high speed 3D, and the film's high frame rate has reportedly been too much for some people to take.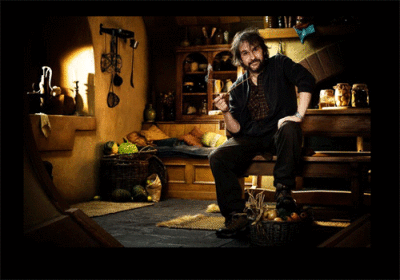 The film uses 48 frames per second, which is double the normal 24 frames per second seen in most movies. However, it is thought that this increase has caused some fans, who have watched the movie, dizziness, nausea and headaches.
The motion sickness reports have emerged from New Zealand among some fans who attended an early screening of the film, according to the New Zealand Herald newspaper.
The Hobbit has been eagerly anticipated by millions of "Lord of the Rings" fans who loved the original trilogy by Jackson. The Hobbit had its world premiere in Wellington, New Zealand on Wednesday night.
Jackson has been one of the core people in opting to increase the frame rate in the film to 48, saying "48 frames absolutely helps 3D because suddenly you're removing a substantial amount of the motion blur that you get at 24 . Your eyes get a much smoother experience."
He added, "Even though I've made a lot of fantasy films, I've always tried to make them as realistic as possible."
Although some have felt queasy by watching the epic, others have been praising the efforts of Jackson and those behind The Hobbit.
Director of the X-Men, Bryan Singer, has praised the film as well as Ian McKellen, who plays Gandalf in the film. He tweeted, "Just saw #Hobbit. Having some serious frame rate envy. Amazing and involving. Loved it! And @ianmckellen118, my friend, you are brilliant!"
Motion sickness complaints have been a more common grumble among more recent films that feature 3D special effects. Both "Avatar," by James Cameron, and "The Twilight Saga: Breaking Dawn," had some filmgoers complaining about motion sickness at early showings of the films.
However, those comments did not put off fans of either movie, and fans turned out in the their masses, making both of those films massive box office smashes.
Avatar became the top-grossing film of all time, raking in $2.78 billion at the worldwide box office, according to Mojo.
Breaking Dawn has also passed the $700 million worldwide box office mark. Some are touting that The Hobbit will also likely get near or break the $1 billion global box office mark.
Here is the video of the trailer for The Hobbit:
The Hobbit An Unexpected Journey - Trailer