Justin Bieber, Chris Brown Hit Music Studio Together
Justin Bieber, Chris Brown Hit Music Studio Together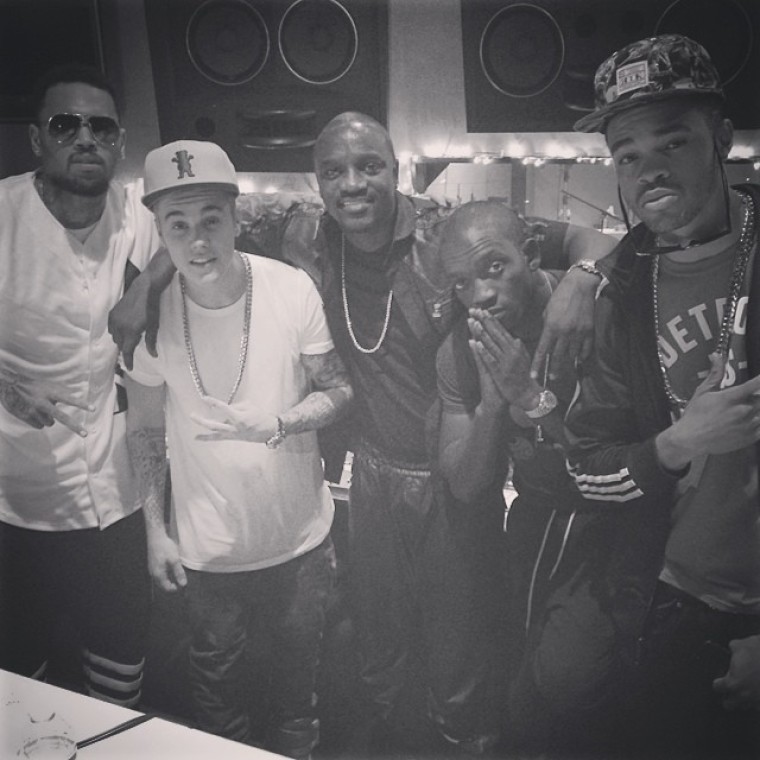 Justin Bieber and Chris Brown appear to be working on some new music together.
On the heels of being accused of racism after some old videos surfaced where he used the n-word, 20-year-old singer Bieber posted an image of himself in the recording studio with Brown, music producer Akon and his executive brother Abou Thiam.
Bieber did not give away just what he and Brown, 25, were working on, weeks after the latter was released from jail. Instead he simply captioned the image, "studio."
The two singers have collaborated in the past, namely on their graffiti art last year. Brown is a graffiti artist as well as a singer, and spray painted some characters on Bieber's half pipe which the latter showcased on Instagram last year.
"Breezy spray painted my half pipe," Bieber captioned the Instagram photograph. "He's super dope."
Last year, Brown revealed that he identified with Bieber and was praying for his fellow entertainer. Aside from his racial controversy, Bieber previously made headlines for his alleged reckless driving habits, aggressive behavior and alleged marijuana use.
After assaulting girlfriend Rihanna in 2009, Brown has overcome his own share of media scrutiny and spoke about identifying with how Bieber is feeling.
"It's sort of what Justin Bieber is going through right now. It's a case like how I feel," Brown said during a previous appearance on New York City radio station Power 105.1 last year. "It's being young, having limitless amount of income to do whatever you feel and at the same time there's nobody to say 'hey bruh you're looking bad right now. You're doing this or you're doing that.'"
Brown explained how he has overcome negative media headlines throughout the years.
"For me I had the people that said it and I got through eventually," he previously said on the New York City radio show. "But right now ... I mean (Bieber's) team is wonderful."