Kanye West Blames Kim Kardashian for Popularity Decline, Distancing Himself From Her?
Kanye West Blames Kim Kardashian for Popularity Decline, Distancing Himself From Her?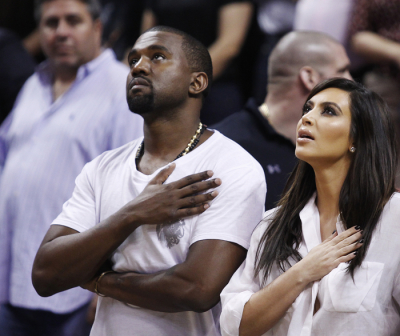 Kanye West recently blamed his relationship with Kim Kardashian for his declining image, and a new report claims the rapper is trying to distance himself from his pregnant girlfriend.
West was recently ranked 7th on MTV's list of top rappers in the industry and the rapper openly expressed his disappointment in a radio interview.
"Yeah, number seven bothers me. I feel like for them to put me at number seven, they had to bring up things they didn't like," West vented to New York radio station Hot 97.
"They don't like Givenchy Kanye. They don't like Kanye in a kilt, they don't like Kanye in a relationship," he went on.
Just days after Kardashian confirmed her pregnancy on New Year's Day, various media outlets claimed West, who is a Grammy-award winning rapper, had suffered a drastic decline in popularity, with public perception allegedly shifting due to his involvement with the reality TV star.
A new report claims that West, 35, is trying to distance himself from Kardashian, 31, in a bid to protect his image. For Kardashian, who is said to be 17 weeks in her pregnancy, the fear of being abandoned by West is described as being her "worst nightmare."
"Kayne's trying to do anything to get away from her, despite the fact that they're having a baby," an alleged family insider told In Touch magazine.
"It's making Kim very nervous. If Kanye abandons her and she ends up a single mom, it will be her worst nightmare," the insider went on.
West has been touring solo in Europe in recent weeks while Kardashian has mainly been photographed in her home city of Los Angeles.
In January, E-Poll Senior Director of Marketing and Communications Randy Parker claimed Kardashian had affected West's reputation.
"He was starting to bounce back from [the 2009 VMA incident with Taylor Swift]. There does appear to there is some sort of fallback or blowback from him hooking up with Kim," Parker told the Huffington Post.
"One of the things we measure is an attribute called 'Overexposed'. We find that people use it as a general way of saying, 'I've had it with you, You've just gone a little too far,'" he explained, adding, "I'm guessing his overexposed score is quite high."
Kim Kardashian Pregnant: Kanye West, Kardashian Announce First Baby Together