Macy's Thanksgiving Day Parade Live Streaming: Watch Online 2012 Parade (Route Map, Live Stream Link)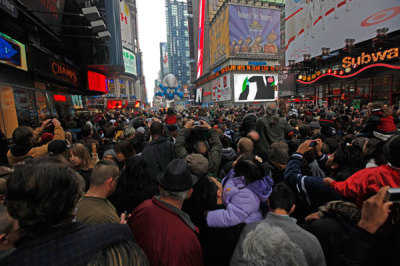 The Macy's Thanksgiving Day Parade 2012 will be aired live on NBC today and can be watched online through a live streaming feed via the link provided below.
The Macy's 2012 Thanksgiving Day Parade is an annual tradition loved by many around America, and on Thursday it is expected that as many as 25 million people will watch the parade.
The Macy's parade will take a new route this year through New York City, and will feature more than 8,000 participating in marching bands, riding atop floats, and in numerous performance groups.
Among musical performers expected to sing on board floats this year include Cody Simpson and Carly Rae Jepsen, Manheim Steamroller, Jennette McCurdy, Colbie Caillat and Chris Isaak. Miss USA Olivia Culpo and several 2012 Olympic Gold Medalists will also be featured in the parade.
The famous balloons and floats this year will also include kids' favorites such as Hello Kitty, Kermit the Frog, Diary of a Wimpy Kid, Spongebob Squarepants, Julius, Spider-Man, Kung Fu Panda, Ronald McDonald, the Pillsbury Doughboy, Pikachu, Buzz Lightyear, Sailor Mickey Mouse and Sonic the Hedgehog.
The parade will begin at 9 a.m. EST and continue until it reaches the end of its route around 12 p.m. EST. It will air live on both CBS and NBC.
The new route this year will start at 77th Street and Central Park West and ending at Macy's in Herald Square (34st). A map of the route is available on Macy's official website.
A live stream of the parade is available and can be viewed by clicking here.
An EarthCam Link with various views of New York City can also be viewed by clicking here.
Macy's Thanksgiving Day Parade 2011 (Past)